Vaguely Anti-Semitic, Ratings-Challenged Trevor Noah Laughable in Lecturing Murdoch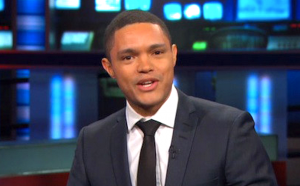 The Salon Headline screamed louder than usual this morning:
"The Daily Show" blows up Fox News again!: Trevor Noah unloads on Rupert Murdoch's vague racism

Yup…Mr. Noah is just the guy to lecture us when it comes to ill-advised Tweets, isn't he? But before we point out the just how not-so-vaguely anti-Semitic the new Daily Show host has proven to be on social media, let's make this clear: Rupert Murdoch deserves the blowback he's receiving for that Tweet around President Obama not being a real black president. He has apologized and should have known better in the first place.
It's all so reminiscent of a situation that reportedly occurred in Seattle last season with the Seahawks, when some teammates of black quarterback Russell Wilson apparently felt he wasn't "black enough." It's all beyond silly, beyond anything resembling maturity, it's not even worth attempting to parse the meaning. If you're good at your job–president, quarterback, whatever–you're good at your job. If you're not at your job–president, quarterback, whatever–you're not. But we're all so race-obsessed now (at least those in media and comedy) that this conversation will always have a megaphone. And that's a whole bowl of wrong.
But back to Noah, he's being cheered by the usual circles for sticking it to Fox. But where exactly were the same publications and writers when he decided these Tweets were pure comedy?
Almost bumped a Jewish kid crossing the road. He didn't look b4 crossing but I still would hav felt so bad in my german car!

— Trevor Noah (@Trevornoah) September 18, 2009
Messi gets the ball and the real players try foul him, but Messi doesn't go down easy, just like jewish chicks. #ElClasico

— Trevor Noah (@Trevornoah) January 25, 2012
Behind every successful Rap Billionaire is a double as rich Jewish man. #BeatsByDreidel

— Trevor Noah (@Trevornoah) May 12, 2014
I like women that don't wear make up. For me they're like pizza- still great the next morning!

— Trevor Noah (@Trevornoah) May 2, 2010
"Oh yeah the weekend. People are gonna get drunk & think that I'm sexy!" – fat chicks everywhere.

— Trevor Noah (@Trevornoah) October 14, 2011
Nowhere to be found, of course. After all, it's all about the opponent these days, not the messenger. With Jon Stewart, it was hard to call him a hypocrite in these situations since he doesn't Tweet. Stewart also had something called delivery, presence and likability…something the won't-be-hitting-Spring-Break-in-Tel-Aviv-anytime-soon-Noah appears to lack. And the numbers show it: During his first week, Noah averaged 1.02 million viewers – a 33% decline compared to one year ago. Among teens, the 31-year-old South African is down 59 percent from the 53-year-old Stewart's numbers. In the 18-49 demo, he's down 42 percent.
These numbers are stunningly poor, only because the news cycle is much more Daily-Show-friendly (presidential election with 15 GOP candidates including Donald Trump/Ben Carson for the myopic show to mock) than it was at this time in 2014. Add it all up, and after just one week and some tepid reviews at best, one-in-three are gone overall, over four-in-ten in the money demo…and six-in-ten in the teen demo. And from the looks of what we've seen from Noah thus far, he has his work cut out for him given his limited range in getting them back.
Rupert Murdoch joins the list of media members and moguls who sends out a Tweet he wishes he could take back. In an industry where almost everyone really needs to be heard well after leaving the studio or office, the bufferless bloopers are now a weekly and even daily occurrence.
But when looking for the right comic to stick it to those who err in these situations, don't bother with the hopelessly average and struggling Trevor Noah, who would be better served avoiding anything involving Twitter takedowns altogether.
— —
>>Follow Joe Concha on Twitter @JoeConchaTV
Have a tip we should know? tips@mediaite.com