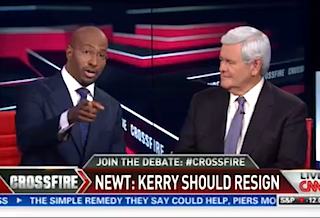 When John Kerry compared the threat of climate change to that of weapons of mass destruction, CNN's Newt Gingrich called on the "delusional" secretary of state to resign. But, as his Crossfire co-host Van Jones demonstrated Wednesday, Gingrich was not always such a climate skeptic.
Gingrich began today's episode of Crossfire by expanding his attack on Kerry that began on Twitter. While a "traditional secretary of state" would have held a news conference today on the troubling developments in Ukraine, Venezuela and elsewhere, he said, Kerry is speaking out against the threat of climate change. "Delusional thinking is totally inexcusable for any secretary of state," he said.
"I'm surprised at you," Jones shot back at Gingrich. "You're one of the pro-science people in public life." As proof, he flashed back to a clip of Gingrich talking to John Kerry, of all people, in 2007 about the threat of climate change.
"My message, I think, is that the evidence is sufficient that we should move towards the most effective possible steps to reduce carbon loading of the atmosphere," Gingrich told Kerry of those in Congress who resist climate science. "And do it urgently."
"I would hate to think that Newt Gingrich is competing with John Kerry for the title of flip-flopper-in-chief," Jones joked.
While Gingrich admitted that climate change is a "serious topic we ought to debate seriously," he stood by his criticism of the way Kerry "elevated" it to something larger than it is.
Watch video below, via CNN:
[photo via screengrab]
— —
>> Follow Matt Wilstein (@TheMattWilstein) on Twitter
Have a tip we should know? [email protected]