Van Jones Echoes '08 Hillary Clinton: President Obama, 'A Great President,' Can't Also Be 'Social Movement Leader'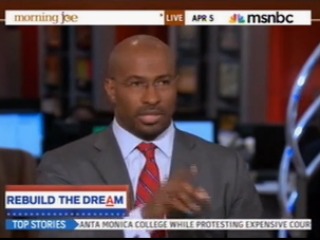 Former White House special adviser Van Jones stopped by the set of Morning Joe Thursday morning, where he promoted his new book, Rebuild the Dream, in which he talks about debt, foreclosures… and a run-in with media personality Glenn Beck, who has long been critical of Jones, and vice versa.
"I turn on the Glenn Beck television show," joked host Joe Scarborough, "and I find out this is a Marxist that wants to take America down brick by brick, shredding the Constitution. I was like… I was wrong. And so he is back again. And he looks so nice. Who knew? Who knew that Van Jones was a dangerous menace to American democracy?"
RELATED: Red Eye Panel Chews Out Van Jones For Labeling Libertarians Homophobic And Racist
Jones then explained how his new book offers a close — and sometimes critical — look inside the Obama White House:
I was a grass roots outsider; I became a White House insider. And then I became a grass roots outsider again. And I saw the misfires, how the White House didn't really understand the grassroots movement, the grassroots movement certainly not understand the White House. And there was this "hope bubble" that collapsed, both sides not understanding each other. So the book is really for kind of the "post-hope" Democratic party. How do we recognize that President Obama, a great President, cannot also be a social movement leader? LBJ did not lead the Civil Rights movement, ok? […]

You got to have strong grassroots movements and strong presidential leadership to make change… So the book is trying to get past that disappointment with the base, learn the lessons, and move forward.
RELATED: Van Jones: Even If 'Obama Came Out As Gay' He Would Not Lose Black Vote
"We went from 'hopey' to 'mopey,'" he joked. "If you stay there, it's 'dopey dopey.'"
When Jones spoke about people's trouble in determining how to view the President as a leader, Scarborough observed that "you actually sound a lot like Hillary Clinton in 2008, when she got in a lot of trouble for saying — and you know what I'm going to say — you know what? Martin Luther King, he was the leader of the movement. But if it weren't for LBJ, who knew how to work his way around the Capitol, we wouldn't have passed this."
As Politico noted in 2008, then-candidate Clinton had said that "Dr. King's dream began to be realized when President Johnson passed the Civil Rights Act. It took a president to get it done."
"She was on to something," Jones agreed, adding that "we wound up trying to make one person, President Obama, do all of it" when "two kinds and styles of leadership" are needed to deal with the problems with which the U.S. is currently dealing.
"It's not supposed to be yes he can," Jones continued, "it's supposed to be yes we can — we disappeared."
When panelist Mike Barnicle noted that much of Jones' book seems to be an "indictment of Obama," Jones said the book was neither pro- nor anti-Obama but, rather, "pro-analysis."
Maybe he and Beck will discuss it over milkshakes in the near future.
Have a look, via MSNBC:
Have a tip we should know? tips@mediaite.com