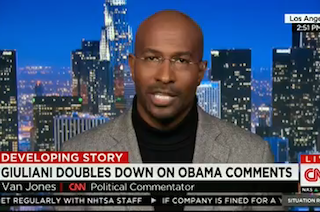 During an appearance on The Situation Room Friday evening, commentator Van Jones took bigger issue with former New York City Mayor Rudy Giuliani's supposed explanation for why his comments about President Barack Obama's patriotism were not racist than he did with the original comments themselves.
After Giuliani came under fire for saying Obama "doesn't love America," he answered those who thought he was being racist by saying that could not possibly be true because the president was "brought up by a white mother, a white grandfather, went to white schools, and most of this he learned from white people."
Jones described Obama's patriotism is a "deep patriotism that says, I love America, means I love all Americans, I love poor people, I love gay people, I love Muslims, I love all people who are Americans and I'm trying to figure out a way to bring us together and move us forward." He said Giuliani "owes not just the president but the country an apology."
While she could understand why Giuliani is "offended" by some of the things Obama has said about the fight against terrorism, S.E. Cupp said she found his comments about the president's patriotism "really inappropriate." Echoing Sen. Marco Rubio (R-FL), Cupp also said she did not think that every prominent Republican should have to answer for what Giuliani said.
But it was Giuliani's comments specifically about Obama's race that seemed to bother Jones the most.
"When Rudy Giuliani says that because Obama has a white mom, nothing he says about Obama can be racially offensive, that sits very poorly in the mouth," Jones said at the end of the segment. "A quarter of all the slaves had a white mother or — a white parent or grandparent, and they were still racially oppressed. He's playing fast and loose with some of these very sensitive racial topics and he is should back down from that."
Watch video below, via CNN:
[Photo via screengrab]
— —
>> Follow Matt Wilstein (@TheMattWilstein) on Twitter
Have a tip we should know? tips@mediaite.com