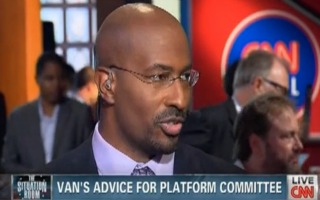 Former White House Advisor Van Jones took a swipe at the Democratic Party's platform drafting committee on Wednesday for omitting the word God. He said that this was an error that made people like himself who are both religious and Democratic party supporters feel excluded. Jones concluded by warning that he fears the Democratic party is becoming a party of only "spiritual but not religious" members.

RELATED: Democrats Reportedly Drop All References To 'God' In 2012 Party Platform
During CNN host Pete Dominick's "unsolicited advice" segment, Jones directed his advice towards the Democratic party's platform committee. He said that they should say that leaving any mention of God out of the platform should be addressed as an error of omission.
"Just pretend that the draft you submitted that didn't have the word God in it was just a draft, and the real draft was inclusive of people like myself who go to church and who are also progressive Democrats" said Jones.
"If we're going to be inclusive as a party, then that doesn't mean that you leave out people like myself," Jones continued. "Dr. [Martin Luther] King [Jr.] was a Christian minister. Every Democrat loves Dr. King and celebrates him and yet, somehow, we're becoming this party where you can be spiritual but not religious."
"That's going to be the banner of the Democratic party and it's going to leave out a lot of people," Jones warned.
Jones agreed when Dominick called the move an "unforced error."
Jones went on to say that the platform committee's error was foolish because it further alienates red state Democrats. He said he would guarantee that, for example, in states like his home state of Tennessee, the only thing most voters would know about the Democratic party's platform was that it did not include the word God.
Watch the clip below via CNN:
> >Follow Noah Rothman (@Noah_C_Rothman) on Twitter
Have a tip we should know? tips@mediaite.com