Van Jones Slams Fox News And Challenges 'His Brother' Glenn Beck To A Debate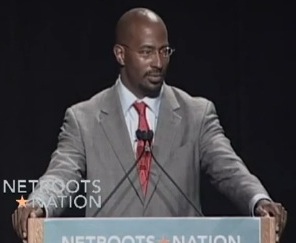 Glenn Beck's final days at Fox News are quickly fading and one person who surprisingly wants to make one last splash on Beck's show is none other than longtime Beck nemesis, Van Jones. Jones, speaking at the Netroots Nation conference, said "I've had all I can stand FOX TV and I can't stand no more." However Jones also admitted that he is open to an epic debate with Beck, that is of course, if Beck is willing to accept the challenge.
Jones seemed extremely angry at first, discussing the smear campaign against him and addressing Fox News generally:
"It's not just immoral, it's un-American. To abuse the airwaves and to abuse the ears of our children with your lies and your filth. We're tired of it – we're sick of it."
Yet by the end of his speech, Jones said he doesn't hate his enemies and even wants to have a battle of ideas with Beck:
"I issue a personal challenge to my beloved brother Glenn Beck. I will debate you any time, anywhere, at any point. I give you an hour, you give my five minutes and I will stand up for our values, but you will have to stop talking about us and start talking to us. You got one week left before your show goes off. My phone is ringing. Call me!"
If Jones is sincere about debating anywhere, and is willing to appear on one of Beck's last shows, how could Beck possibly resist the opportunity to create a memorable confrontation as part of his final Fox farewell? Beck previously had a phone in his studio that he would wait by for someone from the Obama administration to call, and now it seems Jones is giving Beck some of his own dramatic medicine and waiting by his phone, waiting for Beck call.
Watch the clip below of Jones' speech at Netroots Nation:

Have a tip we should know? tips@mediaite.com