Van Jones Warns Dems About 'Dangerous' Marco Rubio: He Is 'To The Heart What Paul Ryan Is To The Head'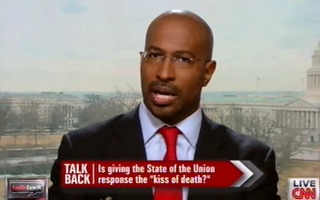 Former White House Advisor Van Jones warned his fellow Democrats on Wednesday not to laugh too hard at Sen. Marco Rubio's (R-FL) water drinking moment during his Republican response to President Barack Obama's State of the Union address. Jones warned that Rubio is "dangerous" for Democrats because of his ability to connect emotionally with his audience. "I think people can chuckle today – they're going to be worried about him tomorrow," Jones said.

RELATED: Historic Thirst: Marco Rubio Becomes His Own State Of The Union Drinking Game
New York Times columnist Ross Douthat said on CNN Tuesday that, regardless of how Rubio's water drinking moment may overshadow his address, the Republican Party wants to put him in the spotlight and that is not going to change.
Turning to Jones, CNN anchor Carol Costello said that her only takeaway from Rubio's address was the water bottle moment. She asked if most voters were like her in that sense.
"Rubio is dangerous for Democrats," Jones said curtly as the chuckles from the CNN panel faded. "I'm so glad that we're talking about him and we're joking about him, because right when he reached for that water bottle he was reaching an emotional part of that speech which he stepped on."
"The last 90 seconds of that speech shows you the danger he poses for Democrats," Jones continued. "He is to the heart what Paul Ryan is to the head."
"This man can connect emotionally. Democrats dodged a bullet. We have not heard the last from Marco Rubio," Jones added. He said that the junior senator from Florida possesses an "extreme record," but his political skill should be taken seriously by Democrats.
Watch the clip below via CNN:
> >Follow Noah Rothman (@NoahCRothman) on Twitter
Have a tip we should know? tips@mediaite.com