Van Susteren And Kirsten Powers On Media Misogyny: Obama And Super PAC 'Will Look Other Way' If You 'Pony Up'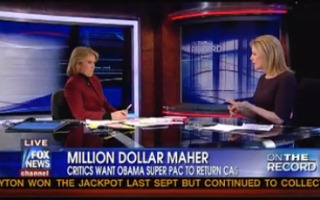 Greta Van Susteren invited Daily Beast columnist Kirsten Powers onto her show Thursday night to discuss the leeway given to those who make misogynistic statements under the guise of comedy or entertainment. Powers, you'll recall, recently wrote an article on the double standard applied to media figures on the left and right when it comes to misogyny.
RELATED: Kirsten Powers: If Limbaugh's Actions Demand Boycott, Then What About 'Army Of Swine On The Left'?
Van Susteren kicked off the segment by asking if there is a "price tag for decency in the Obama campaign," adding that Barack Obama and "Priorities USA Action," the Super PAC supporting his reelection efforts, will "look the other way when it comes to bigotry as long as you pony up one million dollars."
Bill Burton, Priorities USA Action's co-founder, has said that there's no comparing Rush Limbaugh referring to Sandra Fluke as a "slut" and, saaay, Bill Maher referring to Sarah Palin as a "cunt" because Maher is a comedian and Limbaugh is the "de facto leader of the Republican party."
Powers' reaction? "I have to say, Bill Burton, you are so much better than what you just did." She also wanted to know what, exactly, the joke is in referring to a woman as a derogatory phrase for female genitalia.
Van Susteren brought up David Axelrod's upcoming appearance on Maher's show, adding that "he doesn't care, either."
RELATED: Greta Van Susteren Calls Out David Axelrod For Appearing On Maher's Show: 'Maher Is A Serial Pig'
Powers ran through a list of all the exceptions the media and those in politics have been making for misogynists: "They're making all of these distinctions that you can be misogynist if you're a comedian, you can be misogynist if you're attacking a public person — this is another argument they're making. And, meanwhile, this is the same group of people who claim that they're fighting a 'war on women.'"
Van Susteren pointed to her call for a boycott of the Radio and Television Correspondents Association Dinner because of event headliner Louis C.K.'s various jokes about a certain part of Sarah Palin's anatomy.
RELATED: Van Susteren Calls For Radio & TV Correspondents Dinner Boycott, Dubs Headliner Louis C.K. A 'Pig' (Update)
"Let's see," she said, "if the women have the guts to stand up to the media on this."
Watch, via Fox News:
Have a tip we should know? tips@mediaite.com