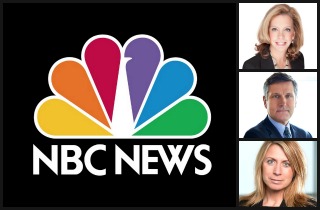 Late last night, Vanity Fair released an in-depth investigation of NBC News' handling of the Brian Williams scandal and various other complications hampering the network since it was acquired by Comcast in late 2009.
The piece, by Brian Burrough, doesn't contain much in the way of new information, but it does provide a damning glimpse at Comcast's personnel decisions which, as the investigation suggests, are largely to blame for network woes. The three biggest leadership hires over the past few years have been NBCUniversal CEO Steve Burke (Sept. 2010), NBC News Group chairwoman Pat Fili-Krushel (July 2012) and NBC News President Deborah Turness (May 2013).
"News is a very particular thing, NBC is a very particular beast, and Deborah, well, she really doesn't have a fucking clue," one senior network exec told the magazine. "She's letting the inmates run the asylum. You have kids? Well, if you let them, they'll have ice cream every night. Same thing in TV. If you let the people on air do what they want, whenever they want, this is what happens."
And the blame allegedly lies squarely with Comcast, per the piece:
Since Comcast took control of NBC, the network's news division—famously termed Comcast's "crown jewel" by C.E.O. Brian Roberts—has endured one debacle after another. "When Comcast took over, they had the No. 1 morning show, the No. 1 Sunday show, and the No. 1 evening broadcast," says a former top NBC executive. "That's all completely fallen apart. I don't know how you blame anyone but Comcast and the people it brought in. It's been a nightmare."
Turness, according to another former NBC exec, has had trouble corralling the network's high-priced talent:
"Today is a horror show. Brian Williams? He didn't give a rat's ass what Deborah Turness says. But this is fundamentally not a Deborah Turness problem. She's just a symptom of the problem…. This is a Comcast problem."
Talent management, the report suggested, is a key problem for Comcast at large:
"I always thought they lacked an appreciation for dealing with talent," says a former NBC executive who worked with Comcast executives during the transition. "Remember: They come from a cable utility company, where all you do is keep your customers happy and collect the bills at the end of the month. To be honest, you got the sense they couldn't fathom why NBC worried so much about the talent; you know, 'Why are these people worrying so much about what Matt Lauer thinks?' "

"They didn't believe in talent management," says another former executive who worked with Comcast executives. "I'm telling you … they just didn't believe that mattered."
The network's long string of problems include the Williams scandal, the awkward removal of Ann Curry from Today, and the lengthy debacle surrounding Meet the Press moderator David Gregory's low ratings and eventual firing. Essentially: NBC News has lost its once-pristine reputation as the leading network news organization.
"That's all completely fallen apart," another former exec told Burrough. "I don't know how you blame anyone but Comcast and the people it brought in. It's been a nightmare."
Read the full investigation here.
— —
Have a tip we should know? tips@mediaite.com