Venture Capitalist Doubles Down on Claim That America's Rich Are Like Jews in Nazi Germany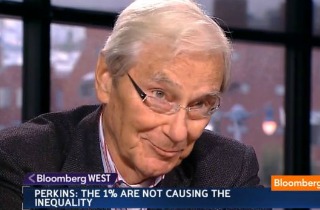 Multimillionaire venture capitalist Tom Perkins came under fire over the weekend when he penned an op-ed for the Wall Street Journal calling out the liberal wing of the Democratic Party for inciting a potential "progressive Kristallnacht" against the wealthy. Appearing on Bloomberg TV on Monday, Perkins said he did regret the use of that word but stood behind the sentiment he expressed in that opinion piece.

Perkins said he apologized to Jewish groups for the use of that word and the impression that he made light of the holocaust in his commentary. He said he was inspired to use that word because of the violence and intimidation engaged in by the Occupy Wall Street protesters in San Francisco who were unimpeded by local police.
"I thought, 'well, this is how Kristallnacht began,' so that word was in my mind," Perkins said.
RELATED: NY Times Buries The Lede: Anderson Cooper's Ratings Surge At 8PM
"The Jews are only 1 percent of the German population" he continued. "And, yet, Hitler was able to demonize the Jews."
"I guess, my point was that when you start to use hatred against a minority, it can get out of control," Perkins added. He said that while he does not personally feel threatened, the "creative 1 percent are threatened."
"The 1 percent are not causing the inequality," Perkins continued. "They are the job creators."
"It's absurd to demonize the rich for being rich and for doing what the rich do, which is getting richer by creating opportunity for others," he asserted. Perkins said that he understood that those who are not wealthy are struggling and prescribed lower taxes and regulation to facilitate job creation.
"Now that, as the messenger I've been shot, at least read the message," he concluded.
Watch the clip below via Bloomberg TV:
[Photo via screen grab ]
— —
> >Follow Noah Rothman (@NoahCRothman) on Twitter
Have a tip we should know? tips@mediaite.com