Vermont Cable Company Wants Viewers To Subscribe By The Channel, Not The Bundle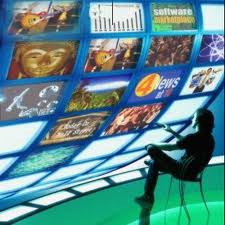 Asides from the various news channels, the folks in my apartment only really watch HBO, AMC, and Comedy Central. However, if any of you came over to visit, I'm positive you could sit down and turn on ESPN 32 or Game Show Network Latin (the one broadcast, not in Spanish, but in the actual dead language) because that's what the cable companies make us get just so I can keep up with Boardwalk Empire. You can all relate, I'm sure. However, a cable company in Vermont is trying to change that by looking for a way to have viewers subscribe by the channel. Can you see that? It's the future! And, if you can't see it, it's probably just because you didn't want to see it and now you don't have to pay for it!
The cable company is Vermont Telephone and Advertising Age's Jim Louderback is reporting that he apparently received the following inspirational missive:
"In a recent letter to customers (disclosure, I am one), he insisted that they 'should have the legal right to pay less' for their TV service. 'We believe that the old cable TV model of making you pay for 250 cable TV channels you don't want, at prices you can't afford, is obsolete.'

Guite continues by saying that VTEL thinks its customers have 'the right to pay for individual TV channels for $1, or $2 or $3 each', and then obliquely promises to cut household TV bills by 66%. My first thought here is that Guite is tilting at windmills. How does he expect to get Disney, Viacom or any of the other big multichannel programming outlets to offer their networks on an ala carte basis. But then I noticed the use of the words 'legal right' in his letter, and realized that perhaps VTEL was taking it to the courts to force ala carte on a recalcitrant industry."
Man, that letter sounds like the cable company equivalent of the Sermon on the Mount. Louderback goes on to explain why he thinks that, even if VTEL fails, this will happen eventually. In fact, this is something I've felt was right on the horizon as well. With HBO testing out online platforms like HBO Go, it just seems like being able to sign up for only the channels you want is an inevitability. However, I've always been a bit of a cynic, so it was something I talked about a lot while deep down I wasn't really sure it was going to happen, kind of like my buddies in college who claimed marijuana was going to get legalized or my teacher in high school who kept discussing when we'd get a black president.
…wait a minute.
You know, aside from our crippling economic troubles, our horribly divided political views, widespread intolerance for certain minorities, and our failing education system, all we need is the flying car and I'd say we're heading towards a pretty bright future!
Have a tip we should know? tips@mediaite.com