Veteran Tammy Duckworth Responds To Rep. Joe Walsh's Accusation Of Not Being 'True Hero'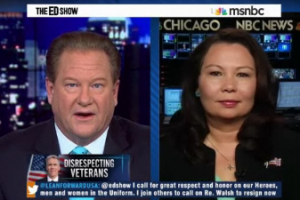 Rep. Joe Walsh once again made headlines for suggesting his opponent, Purple Heart-winning pilot Tammy Duckworth, isn't a "true hero" because she speaks too much about losing her legs. On Tuesday night, Duckworth took to Ed Schultz's show to respond. Deeming Walsh's words "irresponsible," she further said he was an "an extremist loudmouth for the Tea Party."
RELATED: Rep. Joe Walsh Accuses Iraq Vet Of Not Being A 'True Hero' For Talking Too Much About Losing Her Legs (UPDATED)
At the end of her 20 years of service, Duckworth lost her legs after an RPG hit her helicopter in Iraq. During his controversial remarks, Walsh compared her to Sen. John McCain, who is also a veteran. McCain didn't gloat about his service, but was uncomfortable talking about it, he said — adding, "That's what's so noble about our heroes." He went on:
Now I'm running against a woman who, I mean, my God. That's all she talks about. Our true heroes, it's the last thing in the world they talk about. That's why we're so indebted and in awe of what they've done.
Duckworth said the "real heroes" were those who carried her to safety, who risked their lives for her's. Those who are "walking foot patrol in Afghanistan right now," those who are laying in military hospitals across the country. For Walsh to "denigrate military service is very insulting because he's using it for his own political gain," she said, accusing him of trying to "muddy the waters."
What Walsh is attempting to do, Duckworth said, is shift focus away from the fact that he's "done nothing in his two years in Congress other than be an extremist loudmouth for the Tea Party." He votes against Medicare, Social Security, and transportation, she said. Duckworth said she's proud of her service, "proud that I have lived up to my responsibilities to this nation in uniform, that I lived up to my responsibilities as a public servant."
Noting the timing of Walsh's remark, Duckworth said it's "ironic" that he'd throw this into the mix around the Fourth of July, when "we should be celebrating veterans."
"I dont think Mr. Walsh remembers how much others have sacrificed so that he can say whatever he wants to no matter how irresponsible it is," she said.
Take a look, via MSNBC:

Have a tip we should know? tips@mediaite.com