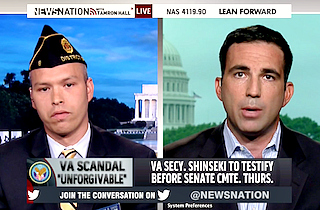 Jacob Gadd of the American Legion and Jon Soltz, Chair of VoteVets.org, clashed on News Nation with Tamron Hall Wednesday morning over the tenure of Veterans Affairs Secretary Eric Shinseki, who is embroiled in revelations of abuse at several VA hospitals. Shinseki is set to testify before Congress Thursday.

The American Legion has called on Shinseki to resign, but Hall reminded Gadd the VA's troubles started before Shinseki took over. Soltz then defended Shinseki's tenure, arguing that his attempt to crackdown on the backlog may have created pressure that led to some of the abuses, and added that Shinseki had opened up diagnoses for Agent Orange and PTSD that had increased the amount of people applying for services from the VA.
RELATED: Chuck Todd: VA Scandal More Dangerous for Obama than 'Partisanized' Benghazi
"General Shinseki started in a very bad situation and he's opening up the VA to so many people," Soltz said. "As he's cracking down to try to lessen the backlog, it's going to be important to figure out if it's his strong leadership here that's forced people to do things that are inappropriate."
"Shinseki's not the problem at the VA," Soltz continued. "He's one of the people who's made a difference to make it better."
Soltz then added that the American Legion had supported a congressional bill to increase funding to the VA that was stopped by Senate Minority Leader Mitch McConnell (R-KY), yet the American Legion had not called for the senator's resignation.
"This isn't political," Gadd replied. "This is right and wrong. When we send our country to war, we need to ensure when they come back that they get the highest quality care and timely access. We believe the funding was there; we don't believe that the accountability and the leadership was."
Watch the clip below, via MSNBC:
[Image via screengrab]
——
>> Follow Evan McMurry (@evanmcmurry) on Twitter
Have a tip we should know? [email protected]