Vice Reporter Simon Ostrovsky Reveals Brutal Details of Captivity in Ukraine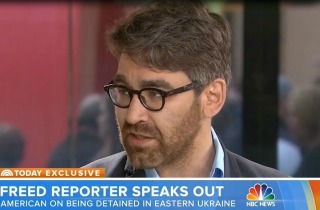 Simon Ostrovsky, a reporter with Vice who was recently held captive for three days by pro-Russian separatists in Ukraine, spoke out about his ordeal in an interview with NBC's Savannah Guthrie. Appearing on Today on Monday, Ostrovsky revealed the details of his capture, the beatings he received in captivity, and why pro-Russian militants are seeking to portray journalists as "tools" of Western governments.
"I was held for three nights and three days," Ostrovsky said. He revealed that he was captured when he was stopped at a checkpoint after a pro-Russian paramilitary showed him a Russian passport which indicated that he was, in fact, not a Ukrainian citizen.
"They blindfolded me, tied my hands behind my back, took me down into the cellar, threw me on the floor," Ostrovsky continued. "Two or three guys, I think, were beating me." He revealed that he was comforted by the fact that they focused their blows on his midsection and were consciously avoiding his face.
"That was encouraging for me," Ostrovsky said. "I don't think they want to kill me, I think they just want to put a scare into me."
RELATED: Vice News Correspondent Reportedly Captured in Ukraine
Ostrovsky said that he was unaware if anyone in the West knew he had been taken captive for the entire three days in which he was a prisoner.
"I think the reason they took me is because they wanted to stop me reporting," Ostrovsky concluded. "So, I'd really like to go back to Ukraine and continue sending stories from there, because that's what it's all about."
Watch the clip below via NBC:
[screengrab]
— —
>> Follow Noah Rothman (@NoahCRothman) on Twitter
Have a tip we should know? tips@mediaite.com