Victim's Father Goes Off on 'Idiots' in Congress: 'Have We Learned Nothing' Since Newtown?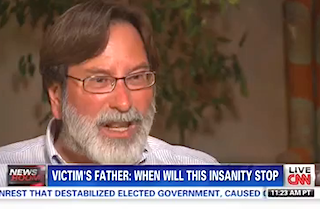 Following his impassioned words against the NRA during Saturday afternoon's press conference, Richard Martinez, father of Chris Martinez, one of the people shot and killed by Elliot Rodger Friday evening, spoke to CNN about his loss and what he plans to do to help prevent even more incidents like this one.
"He's our only child and he died on Friday. I'm 61 years old now. I'll never have another child and he's gone," Martinez said through tears. "So the reason I'm doing this to try to see if we can do anything to make my son's death mean something. Because that's all we have got."
Martinez castigated the media for focusing on the shooter while ignoring the victims. "If there's all these things in the media about the shooter, and there's nothing about the victims, then it sends the wrong message and the people need to understand that real people died here," he said.
When he was asked about Congress' lack of action on guns following the 2012 mass shooting at Sandy Hook Elementary School in Newtown, Connecticut, Martinez asked in return, "What kind of message does it send to the world when we have such a rudderless bunch of idiots in government? I can't tell you how angry I am it's just awful!"
He continued, growing more heated and hysterical with every word:
"What has changed? Have we learned nothing? These things are going to continue until somebody does something, so where the hell is the leadership? Where the hell are these people we elect to Congress that we spend so much money on? These people are getting rich sitting in Congress, what do they do? They don't take care of our kids.

My kid died because nobody responded to what happened at Sandy Hook. Those parents lost little kids. It's bad enough that I lost my 20-year-old, but I had 20 years with my son, that's all I'll have. But those people lost their children at six and seven years old. How do you think they feel? And who's talking to them now? Who is doing anything for them now? Who is standing up for those kids that died back then in an elementary school? Why wasn't something done? It's outrageous!"
As the video shows, Martinez continued to rail against a system that he believes failed to protect his son along with so many others, but, for now, CNN cut away to commercial.
Watch video below, via CNN:
[Photo via screengrab]
— —
>> Follow Matt Wilstein (@TheMattWilstein) on Twitter
Have a tip we should know? tips@mediaite.com