Video Emerges from Last Night's Controversial Heritage Benghazi Panel
Here's the Video from Last Night's Controversial Heritage Benghazi Panel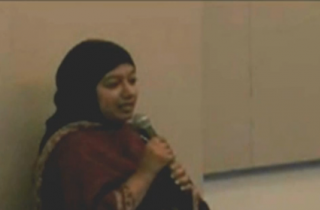 On Monday evening, Washington Post columnist Dana Milbank live-blogged the Heritage Foundation's Benghazi panel and described a lengthy exchange between panelists and a Muslim student as "ugly" and having descended into taunts and mockery.
The nut of the story, as described below by Milbank:
Panelist Brigitte Gabriel of a group called ACT! for America pounced. She said "180 million to 300 million" Muslims are "dedicated to the destruction of Western civilization." She told Ahmed that the "peaceful majority were irrelevant" in the attacks of Sept. 11, 2001, and she drew a Hitler comparison: "Most Germans were peaceful, yet the Nazis drove the agenda and as a result, 60 million died."

"Are you an American?" Gabriel demanded of Ahmed, after accusing her of taking "the limelight" and before informing her that her "political correctness" belongs "in the garbage."

"Where are the others speaking out?" Ahmed was asked. This drew an extended standing ovation from the nearly 150 people in the room, complete with cheers.

The panel's moderator, conservative radio host Chris Plante, grinned and joined in the assault. "Can you tell me who the head of the Muslim peace movement is?" he demanded of Ahmed.

"Yeah," audience members taunted, "yeah."

Ahmed answered quietly, as before. "I guess it's me right now," she said.
That description of events generated a bit of controversy last night, as many conservatives doubted the overall accuracy of Milbank's picture.
Well, Media Matters captured the video from Heritage's livestream, and now it is available for all to view. Watch below and decide (the main exchange starts around 4:15):
— —
>> Follow Andrew Kirell (@AndrewKirell) on Twitter
Have a tip we should know? tips@mediaite.com