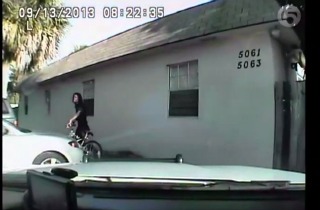 It has been nearly two years since a Palm Beach County Sheriff's Officer shot an unarmed Dontrell Stephens, but dashcam video has finally emerged from the incident.
After the shooting, which occurred in Sept. 2013 and left Stephens paralyzed from the waist down, Deputy Adam Lin was cleared to return to work four days later. At the time, the officer alleged that he had gotten out of his vehicle and demanded Stephens to get on the ground. When the 23-year-old took a step towards him, Lin said, he fired shots thinking the cell phone in Stephens' hand was a weapon.
Florida lawyer Jack Scarola is suing the sheriff and Lin, alleging that "there are no records of any commands ever made" to Stephens. "The deputy's recorded statements following the shooting were absolutely false," the lawyer told WPTV. "Internal affairs completely ignored that evidence."
The dashcam video, obtained by WPTV, shows Deputy Lin following Stephens, who was on a bicycle, onto a neighborhood street. When the officer pulls over in a driveway and gets out of his cruiser, Stephens gets off his bike. The unarmed black man appears to take a step towards the car and goes out of frame before shots are fired and he is back on-camera, now running from the bullets.
At the time of the shooting, Stephens, who is black, had a criminal record for possessing cocaine. Florida investigators concluded that the shooting was justified.
Watch the footage below, via WPTV:
[h/t The Daily Beast]
Have a tip we should know? tips@mediaite.com