Video: Morning Joe Scarborough Totally Not Being Chauvinistic For A Full Minute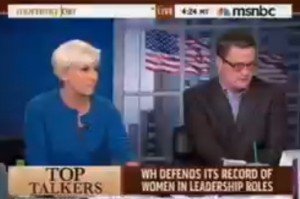 On Thursday morning's Morning Joe, co-hosts Joe Scarborough and Mika Brzezinski got into a heated verbal brawl when Mika accused Joe of being "chauvinistic" by laughing dismissively at, muttering under his breath during, and constantly interrupting, his female colleagues as they tried to make a point about President Obama's female appointments. Seconds after excoriating Mika for daring to say he was acting chauvinistic, however, Scarborough demonstrated, for good and all, his deep respect for women, and their points of view:
I know what you're thinking, but I can't tell you how many times Joe Scarborough has ostentatiously stared at his computer screen while a male colleague spoke directly to him. That's because he's never done it.
Brzezinski went on to apologize to Scarborough, whose dealings with women she apparently bragged about in her book, but that's really the point underlying this debate about President Obama's picks, too. It doesn't matter how many of the right boxes you've checked, if what you're doing right now looks sexist. President Obama nominated white dudes to his top three cabinet posts, and Joe Scarborough treated his female co-star like a dog that he didn't want to make eye contact with, and they're both taking heat.
There were a few other things missing from Thursday morning's debate, though, in which the President's current diversity difficulties were compared with Mitt Romney's "binders full of women" gaffe. First and foremost, Scarborough's outrage at the President's picks actually had nothing to do with the actual fact that there were no women in those top three posts, but that Mitt Romney was "savaged" over the "binders" gaffe, and the President isn't being similarly savaged. That's one pf those things that makes people think you're chauvinistic, when you use an issue that's of concern to women in order to declare some white dude the victim. That's not how to convince people you care about women.
The second problem, of course, is that President Obama is being savaged for this. It's all anyone has talked about since Jack Lew's name was leaked as Secretary of the Treasury. That, and his doodle of a signature.
The real problem is why the President is being savaged, not because he shut women out of the top three cabinet positions of his second term, but because doing so is a complete subversion of what people have come to expect of Barack Obama and his party, as opposed to the "binders" remark, which reinforced what people already expected from Mitt Romney and his party. Both criticisms are legitimate, to some degree, but for different reasons.
Finally, no one on the Morning Joe panel thought to remind viewers that Scarborough's defense of Romney, that noting a lack of diversity in an applicant pool and seeking out more diverse candidates is "what leaders do," is a complete lie. Joe Scarborough can be forgiven for telling it, because he's only repeating what Mitt Romney told him, but it simply isn't true.
Romney said he "went to a number of women's groups and said, 'Can you help us find folks,'" but what actually happened was that a number of women's groups got together, Voltron-style, to form the Massachusetts Government Appointments Project (or MassGAP) to pressure governors to appoint more women. Here's what they did:
In 2002 MassGAP had tremendous success in getting all of the gubernatorial candidates to agree to improve the proportion of women appointees if elected. The MassGAP founders presented Governor Romney with a book of résumés of eligible women candidates that had been researched and recommended by MassGAP. Governor Romney appointed several candidates from this list, increasing the gender parity in Massachusetts. The project was so successful that he was awarded the 2005 Exemplary Leadership Award by the National Women Republican's Club. Governor Romney credited his ability to appoint so many women to top leadership positions to the efforts of MassGAP.
They approached him (and every other candidate for governor) and gave him the binder in question. What's strange is that Mika Brzezinski knows it's a lie, and come to think of it, so does Joe Scarborough, because Mika told him it was a lie.
On the narrow question of Joe Scarborough's chauvinism, though, it sounds as though he feels he's earned some benefit of the doubt, due to his long history of respecting women and promoting their interests, and the fact that he mistreated his female colleagues on this morning's show should not be used to judge his attitudes toward women. That's exactly the argument that Mika and Katty Kay were making while Scarborough was muttering and laughing at them, so maybe he'll pipe down and listen next time.
Have a tip we should know? tips@mediaite.com