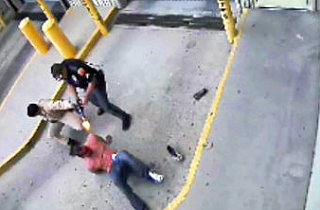 Earlier this year a grand jury declined to charge an El Paso police officer in the shooting death of a prisoner. A video of the incidenct was published on Monday, after the Texas Attorney General instructed the city to fulfill a request processed by the El Paso Times. The events of the video are deeply unsettling, showing a police officer essentially executing a handcuffed man.
On March 8, 2013, Officer Jose Flores shot and killed Daniel Rodrigo Saenz, who was in police custody after erratic behavior at a supermarket led him to be taken to a nearby medical center, where he is alleged to have assaulted an off-duty police officer and the facility's staff. Upon being arrested, Saenz continued to lash out physically against officers, and, according to reports, struck his own head against a door with the apparent intent to injure himself.
In an effort to protect this obviously disturbed man from causing himself, or anyone else, any further harm, Flores made the decision to shoot him to death while he was handcuffed.
In the case, which was also investigated by the El Paso Police Department's Shooting Review Team and the Texas Rangers, according to the El Paso Times, the totality of the events of the day, including the fact that Saenz had not been stopped by earlier attempts to subdue him with a taser, led them to determined that the shooting was justified. Saenz had demonstrated that he was capable of reversing his handcuffed arms to the front of his body, the police say, which, along with his body-builder strength, made him a serious threat.
In the video you can see that Saenz is clearly resisting the officer's effort to remove him from the jail, and he reacts violently. Saenz refuses to remain still, even with two men on top of him. At one point as he's thrown off the prisoner, Flores reaches for his gun, and shoots the man through the shoulder. Which is what killed him. The bullet did. From the police man's gun.
[Combined Law Enforcement Associations of Texas] stated that Flores drew his handgun because "Saenz could quickly front his cuffs and turn them into a deadly weapon, given his considerable strength, agility and demonstrated resistance to the Taser … At the same moment Officer Flores draws his weapon, Mr. Saenz pushes off on that curb and, with remarkable strength, sends the civilian escort flying backwards. The civilian escort's arm then hits the trigger hand of Officer Flores, causing his weapon to discharge."

Saenz was a competitive bodybuilder and trainer known at gyms across El Paso. An autopsy report said he was 5 feet, 8 inches tall and weighed 217 pounds. The autopsy did not find cocaine, PCP or other hard drugs in his system but reported that Saenz tested positive dimethylamylamine, or DMAA, a substance found in both workout supplements and bath salts — synthetic stimulants that can cause paranoia, panic attacks and impaired perception of reality.
The old accidental discharge while pointing a gun at a handcuffed man routine. Seen it a thousand times.
The city's attorney's has argued that the video shouldn't be released for a number of reasons, including the privacy of the deceased. The Attorney General's office declined that reasoning, saying the right to privacy transpires upon being dead, which Saenz is now, via being shot by a police officer while handcuffed.
Watch the video below (WARNING: GRAPHIC CONTENT, BE ADVISED):
— —
>> Luke O'Neil is a journalist and blogger in Boston. Follow him on Twitter (@lukeoneil47).
Have a tip we should know? tips@mediaite.com