View Guest-Host Gretchen Carlson Offended By Teacher Swapping 'God Bless The U.S.A.' For Bieber's 'Baby'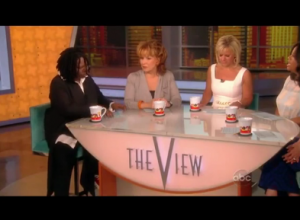 Guest-host Gretchen Carlson jumped right into the fray this morning as the panel sparred over a school's decision to ban Lee Greenwood's "God Bless The U.S.A." from a kindergarten class's commencement ceremony, opting instead to play Justin Bieber's "Baby." Wait, what?
It's true — a teacher pulled the song in favor of the Bieber track because she felt that the lyrics were not appropriate for a kindergarten graduation. Barbara Walters seemed to think she had a point: sample lyrics include "If tomorrow all the things were gone/ I'd worked for all my life/ And I had to start again/ with just my children and my wife/ I'd thank my lucky stars/ to be livin here today/ 'Cause the flag still stands for freedom/ and they can't take that away." Walters guessed that not many five-year-olds would be able to relate to the themes in the song, which Sherri Shepherd rebutted by pointing out that the lyrics to Bieber's song are not necessarily appropriate for the occasion, either.
Carlson, however, was upset about that particular song being censored — she wasn't mollified when Whoopi Goldberg wondered why they didn't sing "God Bless America" at the ceremony, a much more classic and much less asinine tune with the same general themes as Greenwood's song. "I say it's offensive to NOT sing it anymore. Isn't this America? I mean, come on!" Carlson said indignantly, to applause from the audience. USA! USA!
You can see the clip here, via ABC:
Have a tip we should know? tips@mediaite.com