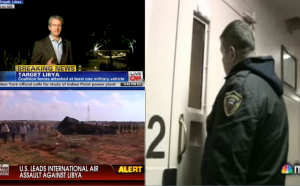 CNN's political director, Sam Feist, had only two things to tell his eight thousand Twitter followers over the weekend: On Saturday night, he said CNN was busy on a multitude of major news stories (quoting Wolf Blitzer, who anchored live primetime coverage Saturday and Sunday, he said "we're live on five continents") and he took a shot at cable news rival MSNBC. "Must be a Big news day: MSNBC running Lockup."
Sure enough, the prison documentary series Lockup ran on MSNBC Saturday and again Sunday night as cable news rivals CNN and Fox News swarmed to cover the American missiles raining down on Libya. MSNBC has long faced criticism for choosing taped programming over live news coverage on weekends. Back in 2009, Scott Collins wrote about the network's failure to cover breaking news in Iran in a Los Angeles Times story headlined "At MSNBC, Weekends Aren't Newsworthy." Collins quoted an MSNBC spokesman saying episodes of Lockup "generate higher viewership for us on weekends."
Back in 2009, Huffington Post blogger Tom D'Antoni called the choice of ratings over news a fateful one, saying MSNBC "disgraced themselves."
The ratings defense may be wearing out for MSNBC. Over the past week, huge news stories including Japan and Libya have delivered giant ratings for CNN and Fox News–but not MSNBC. When the network stuck with the Friday night version of Lockup rather than live coverage of Japan on March 11–the very moment when most of the world was realizing the magnitude of the tragedy–viewers wanted nothing to do with the prison series. At 10 p.m. that night (when MSNBC switched to tape), CNN's Anderson Cooper led cable news with Japan coverage–and led MSNBC by more than a million viewers 25-54.
By Sunday night, CNN and Fox News were both live with Japan, and MSNBC re-aired a special on Charlie Sheen. CNN's live coverage from Japan outpaced the Sheen special by more than 700,000 viewers 25-54.
That pattern–with viewers abandoning MSNBC in favor of Fox and CNN–held into the following week, as MSNBC kept to its format with opinion-driven hosts like Lawrence O'Donnell, Rachel Maddow and Ed Schultz, (Fox News, by comparison, notably pre-empted Glenn Beck for hard news coverage of Japan and added live overnight programming) all of whom saw lower-than-normal ratings.
Clearly, when news is happening, viewers want to be able to get the latest on cable. MSNBC has largely suggested those viewers sample somebody else, and Fox and CNN have profited over the last week at MSNBC's expense. Have the executives at MSNBC noticed?
Perhaps the ratings after Japan explain MSNBC's decision not to air Lockup last Friday night in favor of live news, and to devote a significant amount of time Saturday afternoon to Libya, with live reporting by Chuck Todd, Mike Viquiera and Jim Maceda. That got the network some attaboys on Twitter, but by primetime it was back to the regularly-scheduled Lockup. We'll see soon whether viewers stuck around for the latest on inmate life, or flipped channels to find out if we're at war.
After years of criticism from critics and fellow journalists alike for their no news on weekends approach, could viewers finally be voting with their remotes in big enough numbers to convince MSNBC to drop Lockup and do news full time?
Have a tip we should know? tips@mediaite.com