'Vile, Disgusting Content': Pop Star Ke$ha Draws Outrage For Drinking Her Own Urine On MTV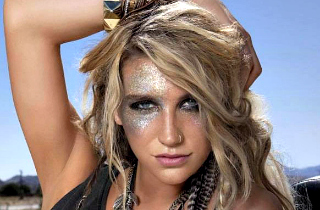 During her MTV documentary Ke$ha: My Crazy Beautiful Life on Tuesday night, famously greased-and-glittered pop star Ke$ha took a swig of her own urine, prompting the inevitable outrage from family organizations.
Conservative activist group Parents Television Council got advance notice of the offending scene and released a press statement before the show's Tuesday evening airing.

"It is an outrage that this kind of disgusting, vile content is being subsidized by each and every cable subscriber," said the group's leader.
Their main point: Why should cable subscribers have to pay for networks they don't intend to watch, that pollute the airwaves with greasy pop stars drinking their own urine? "We should all have the ability to choose and pay for only the channels we want to watch, but the cable industry won't let that happen without a fight," the group continued.
"[T]he chorus of voices calling for Cable Choice — from Senator John McCain, to writers at the Los Angeles Times and Daily Kos – are growing stronger and impossible to ignore," the statement concluded. "We hope that this episode will drive forward the needed change that consumers are seeking."
According to an interview with The Hollywood Reporter, Ke$ha indulged in urophagia because she'd "heard it was good for you," a common belief among practicers of alternative medicine.
While the pop star has yet to officially respond to the PTC, her rebuttal would presumably be something along the lines of: "We r who we r n if u don't lyke it, u can change channel. xoxo $$$$."
Watch the offending scene below, via MTV:
[h/t
AV Club
]
— —
>> Follow Andrew Kirell (@AndrewKirell) on Twitter
Have a tip we should know? tips@mediaite.com