Virginia GOP Delegate's Wife Refused To Have Sex With Him Over Transvaginal Ultrasound Bill
VA GOP Delegate's Wife Refused To Have Sex With Him Over Ultrasound Bill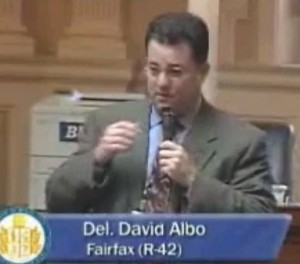 Hell hath no fury like a legislator scorned. Virginia is currently taking up a bill that would require women to undergo transvaginal ultrasounds before getting abortions. In the past few days, Governor Bob McDonnell has relaxed his stance on the bill, suggesting the procedure could be optional instead of mandatory. And yet the fighting continues. Earlier today, state delegate David Albo took the floor to address just how personal this legislation had become for him: when his wife found out he was connected to it, she immediately denied him sexual pleasure. Yes, this went into the official record. I imagine dinner tonight must have been pleasantly awkward in the Albo household.
RELATED: Jon Stewart Explains Ultrasound Law To GOP: 'A TSA Pat-Down In Your Vagina'
Albo told his colleagues the story of his late night adventures earlier this week, when he came home from a particularly contentious session and spent the rest of the night with his family. He read a bedtime story to his son (who's probably going to love finding out about this pretty soon), then went to try and seduce his wife. To give his story the necessary gravitas, Albo played what I'm pretty sure is porno music, and described EXACTLY HOW he tried to have sex with his spouse. He didn't leave a single detail out, from the red wine to his "patented move" to his wife's love of the Redskins. (And no, he did not proceed to make a joke about how much she also loves the Foreskins.)
They were channel-surfing, trying to set the mood or something, when this happened:
"All of a sudden, on my big screen TV comes this big thing and a picture of a bill that says 'Albo' on it. And I went, 'Wow! Holy smokes, my name is as big as the wall!' And the very next scene was a gentleman from Alexandria's face, as big as my wall, going…"
(This part of the transcript has been edited out because Albo started making weird noises and I couldn't really understand what he was saying. Basically, the other legislator was connecting Albo's name to the transvaginal ultrasound bill, and, well, let's let Mr. Albo finish.)
"…it just goes on and on and on. And I'm like this with my wife, and the show's over and she looks at me and she goes, 'I've gotta go to bed.' So if the gentleman's place was to make sure there was one less Republican in this world, he did it. So I expect an apology from you later, in person, on the House floor."
RELATED: Meghan McCain Tells Rachel Maddow Occupy Vagina Law Will 'Penetrate Beyond Politics'
You know, so many Republicans these days talk about their family values, but so few of them actually talk about the inner workings of said values. Good for you, sir!
Watch the video below, IF YOU DARE. (Courtesy of YouTube.)
h/t Huffington Post
Have a tip we should know? tips@mediaite.com
Josh Feldman - Senior Editor