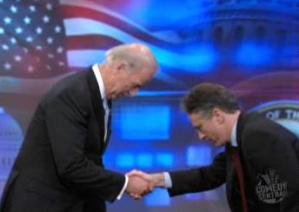 Vice President Joe Biden appeared for the first time in his new role on The Daily Show last night, in a two-part interview focused mostly on policy.
Although Jon Stewart joked about needing to "watch the entire interview on the web, if you know what I mean," it appears the exchange was unedited, and featured just a couple minor gaffes that Biden is known for.
The interview began with a joking bow between Biden and Stewart – mocking Pres. Barack Obama's actual bow in Japan that became a media story earlier this week. It sounded like the bow was pre-planned (Biden first bowed as he was introduced by Stewart before they did it again on set), but it still was a somewhat bold choice by the VP to joke about the issue.
The first observation from Stewart was how much Biden's life has changed since the last time they spoke. "I've never driven in New York without the traffic," joked Biden.
In the context of an accident as police were clearing the way for his motorcade earlier in the day, it seems a bit cringe-worthy. But reports are he only found out about the crash after his Daily Show appearance, and immediately called one of the injured police officers (no one was seriously injured) after he heard.
Stewart described the path a different way:
You won the election with Barack Obama. Your counterpart in the election, Sarah Palin, quits her job, starts Twittering and Facebooking. She writes a book, she then goes off to Oprah and Barbara Walters and you end up…here.
Much of the first part of the interview was about Recovery.gov and the transparency of the stimulus money. Although Biden got the URL right on first reference, the second time he discussed it he called the site Recovery.com. That site redirects to Recovery.org, which was started by the company Onvia "to bring unprecedented levels of transparency and accountability to recovery spending."
Although there's a helpful link to the correct site on the homepage, it isn't the government-run site Biden was looking for. This isn't his first run-in with URL problems when it comes to Recovery.gov – he forgot the URL in a February interview as well.
The majority of the interview was very policy-heavy – about jobs, bailouts, health care – and the VP came across very knowledgeable and comfortable. Also discussed: what Biden's grandfather, Ambrose Finnegan, used to tell him.
>>>NEXT PAGE: The videos of the full interview.
Have a tip we should know? tips@mediaite.com