VP Joe Biden: This Is The First Election I've Been In Where GOP Has Been Honest About Positions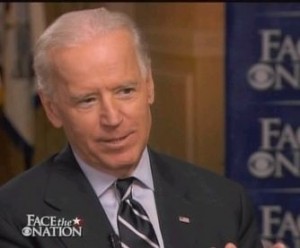 During a lengthy interview on Face the Nation, Bob Schieffer asked Vice President Joe Biden his impressions of the Republican presidential race so far. Last month, Biden quipped during a Florida fundraiser, "God love them, as my mother would say. I hope they have another 20 debates." Biden started his answer by chuckling and recalling some advice from his grandfather that the winds are always changing and one team can easily beat another depending on the day.
RELATED: Joe Biden: 'Lubricated' Has A Different Meaning For Us All
Biden then explained what was so different to him about this election, compared to every single other one he's ever been in.
"Of all the times I've run for office, Bob, this is the first time the Republicans aren't hiding the ball. They're saying exactly what they think. They're not talking about compassionate conservatism, they're not talking about the need for health care in America but we have a different way, they're not talking about public education being the key to economic growth and stability and country.

"They're just saying straight up, straight up what they believe. And so, in that sense, I think this is gonna be an incredibly stark choice the American people are going to have, not just on the economy, but on social policy as well as educational policy. I think across the board, they've been very straightforward about where they are and, so in that sense, God love 'em, they're not hiding the ball, they're just saying exactly what they believe."
Watch the video below, courtesy of CBS:
Have a tip we should know? tips@mediaite.com
Josh Feldman - Senior Editor