VP Joe Biden On GMA: "Gay Marriage Is Inevitable," But Tax Cuts? Not So Much.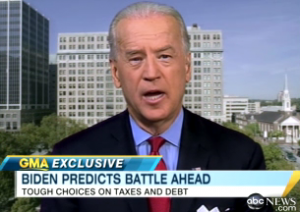 On ABC's Good Morning America this morning, Vice President Joe Biden said the Obama Administration–having just cut an historic tax cut deal with Republicans–will now "hold the line" when those tax cuts expire in two years.
And on another hot issue–one the president was pressed on in his last news conference before skipping town for a holiday trip to Hawaii–with DADT dead, where does gay marriage stand in the eyes of the Administration?

Biden says he, too, is experiencing an "evolution" in his thinking, and believes the next target will be DOMA, the Defense of Marriage Act:
The vice president agreed with Obama's comments that his position on gay marriage is "evolving." Biden said there is an "inevitability for a national consensus on gay marriage."

"I think the country's evolving. And I think you're going to see, you know, the next effort is probably going to be to deal with so called DOMA [Defense of Marriage Act]," he said.
The tax news–that despite an influx of Republicans to Capitol Hill in the new year–the Administration plans to stand firm on letting those just-renewed tax cuts expire the next time around, isn't exactly a promise, as ABC's George Stephanopoulos found:
"George, that's why I think I felt confident in being asked by the President to negotiate a deal on taxes that the equities and the economic imperatives are going to be to not extend the high end tax cut, which would cost $700 billion over 10 years. And not extend this overly generous estate tax," Vice President Joe Biden told me.

Is that a guarantee?

"Nothing's a guarantee," he said.
Watch it here, from ABC News:
Have a tip we should know? tips@mediaite.com