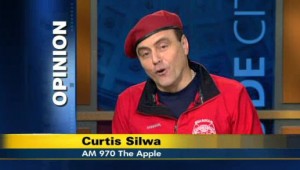 In New York City, NY1 is the city's respected local news channel and it's premiere show, Inside City Hall often gets national politicians as guests. Yet the "Political Rundown," a wacky weekly segment featuring radio personality Curtis Sliwa and political commentator Gerson Borrero seems like it would be more fitting on a morning zoo radio show than a distinguished political program. Although some of the topics discussed are local to New York, the craziness can be universally enjoyed.
Sliwa, almost seeming drunk at times, frantically shifts costumes between wearing New Year's eve glasses, heavy winter apparel, a cape, a crown, a wizard hat, and eating a pizza, all in an effort to portray caricatures of Mayor of New York City Michael Bloomberg, the head of the sanitation department, incoming New York Governor Andrew Cuomo, and outgoing New York Governor David Paterson. Surprisingly though, moments of serious commentary, like Borrero wanting Bloomberg to resign over his botched snowstorm response, do manage to get in despite Sliwa's antics.
And in case the clip isn't weird enough, you also get to enjoy an awkward two minutes of complete silence in the middle when the teleprompter dies. It's unclear why the host of the show needed a teleprompter when all he basically utters is "Curtis?" to tee up Sliwa's theatrics. Although the two-minute delay does allow Sliwa time to change into his most elaborate costume yet.
Sliwa's one moment of seriousness came with his anger over New York City officials taking a public victory lap for their passage of the 9/11 First Responders Bill:
Hey let me remind you, Schumer and the rest of ya, we haven't even built the World Trade Center back after almost ten years. So you're patting yourself so hard on the back for the [First Responders Bill] that you had to go for a chiropractic adjustment the next day. Who out of our congressional delegation or Senate was going to vote against it? And they say 'oh what a great job we did.' Oopha to all of you.
Strangely at the end of the segment, Sliwa wishes that in 2011 the Spanish-speaking Borrero be sent to cover Major League Baseball's All-Star game in Phoenix, Arizona so that immigration authorities can pick him up and deport him to Arizona where he belongs. Some might think Sliwa actually belongs in a circus, but he certainly provides some unique entertainment.
Watch the video from NY1's Inside City Hall below:

Have a tip we should know? tips@mediaite.com