Wagging The Dog: O'Donnell Blames Edward Snowden For The Media's Obsession With Edward Snowden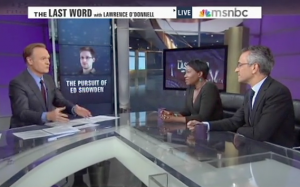 Sometimes people in the media like to break the fourth wall in moments of self-reflection. Lawrence O'Donnell had one of those moments tonight, when guest Richard Wolffe said the country needs to have the debate set off by Edward Snowden revealing details of secret NSA programs. O'Donnell responded to Wolffe by actually saying that the excitement of Snowden going on the run is why the media has stopped engaging in that debate. In other words, Edward Snowden is to blame for the media's obsession with Edward Snowden.
RELATED: Gripping: Watch As O'Donnell Conducts Painfully Awkward Interview With A Friend Of Snowden's
Wolffe credited Snowden for igniting such an important debate, and said no matter what you think of him or his actions, this is a debate the country needs to have. And that's when O'Donnell came out with this utterly baffling argument.
"The problem with the debate, which––we just ran out of time and didn't get to have it 'cause we're busy on the chase story which we're–we're covering the chase story, and so, the funny thing is his chase story, which is dramatic and interesting to cover, takes up, really, the space that would be the debate he wanted. We were doing more of that debate before this chase got so crazy, so he's kind of–he's stuck in this position where his own actions contra… counter what he's trying to accomplish."
So it's Snowden's fault the media has been gawking over his every move instead of having this important surveillance debate? If only Snowden hadn't donned his red coat and fled the country before ACME agents could find him, we would still be having that debate? This, of course, assumes that the media wouldn't have found ways to engage in the more superficial discussion about Snowden's character and activities anyway.
Watch the video below, courtesy of MSNBC:
—–
Follow Josh Feldman on Twitter: @feldmaniac
Have a tip we should know? tips@mediaite.com
Josh Feldman - Senior Editor