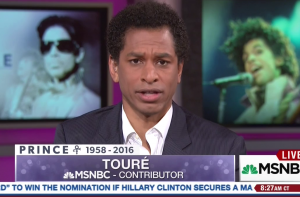 Former host of MSNBC's The Cycle Touré, who literally wrote the book on Prince, appeared on MSNBC Thursday and Friday in the wake of the singer's death. That wasn't surprising, but what was surprising is how he was introduced: as an "MSNBC contributor."
Both MSNBC's Craig Melvin and the chyron identified Touré as a contributor Friday morning, despite the fact that he hasn't appeared on the network since The Cycle was cancelled in 2015.
An MSNBC spokesperson confirmed that it wasn't a producer's error when contacted by Mediaite, saying, "He's always been a contributor since The Cycle ended to my knowledge." But at the time, MSNBC president Phil Griffin issued a memo that certainly sounded very final on the matter [Emphasis added]:
Alex Wagner will stay with MSNBC and play a key role in our political coverage as we head into the 2016 election. And Ari Melber will continue in his role as Chief Legal Correspondent. But we will be parting ways with some friends – Ed Schultz, Krystal Ball, Abby Huntsman and Touré will be leaving MSNBC. Please join me in thanking them for their numerous contributions over the past several years, and in wishing them great success.
When Touré said his goodbyes on the final day of the show, he spoke about his relationship with MSNBC in the past tense: "I love MSNBC. This network meant a lot to me and I think to us, before we were even here, as guests and this is a special network and we're proud to have been just a small part of its history."
And while circumstantial, Touré's lengthy break from Twitter ended the day after The Cycle was cancelled, leading some to suspect that his "self-imposed" exile was not all that self-imposed. Again, one of his first tweets back spoke about his work relationship with MSNBC as though it had ended.
I loved doing The Cycle. I'm proud of the show. I'm proud to have worked at MSNBC. Here's our goodbye: http://t.co/rXeqTz8yMa

— Touré (@Toure) August 2, 2015
But apparently, it hadn't.
Watch above, via MSNBC.
UPDATE – 8:40PM: We received the following statement from Touré:
Yes, I'm back as a contributor. This had been planned for some time and I'm happy to back with my MSNBC family.
[Image via screengrab]
——
>>Follow Alex Griswold (@HashtagGriswold) on Twitter
Have a tip we should know? tips@mediaite.com