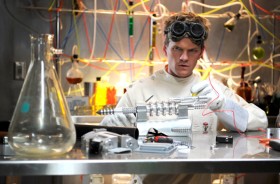 The "Horrible Emmys" puns will be beaten to death before the night is through, but even before the broadcast begins tonight on CBS it's a pretty good bet what the high point of this weekend's obligatory awards show will be.  Yesterday, Entertainment Weekly's Michael Ausiello breathlessly reported on EW.com that "Sources confirm…exclusively that host Neil Patrick Harris will headline a Dr. Horrible-themed production number about midway through Sunday's ceremony."
Well, duh.  Dr. Horrible's eponymous NPH is hosting the show.  Plus, his singing was pretty much the most bearable part of this year's Tony Awards (which he also hosted). But wait, there's more! The internet sensation won a Creative Arts Emmy in the Outstanding Special Class – Short-Form Live-Action Entertainment Programs category (a category that seems purpose built for its winner).  And NPH's internet alter ego has been tweeting threats and promises ("I've got it! I'll use my interceptorizor to highjack the Emmy broadcast!") about tonight's performance for the last 24 hours.
So the Doctor Horrible number tonight promises to be big.  But what is probably bigger is what this foreshadows.  During a TV broadcast the primary purpose of which is to laud and promote other TV broadcasts, a huge TV audience (a large portion of which is likely to be wondering what Doogie Howser is doing on stage) is going to meet the good (ok, bad, but I'm rooting for him) Doctor for the first time.
But here's the thing: Dr. Horrible is all about the death of TV as a medium.  An indie labor-of-love created as a side project during the writer's strike, launched on the web, it became an immediate critical and financial success — entirely outside the traditional network distribution model.
In its initial limited run online, Dr. Horrible was steamed over 2 million times in just five days (and that number would be higher had demand not crashed the servers); today, its Amazon sales rank is #66 for Bestsellers, Movies & TV; with top ten rankings across all its sub-categories.   And a sequel (maybe even a feature?) is in the works.
But as huge as Dr. Horrible is (at least in certain circles), the real story here is that it has reached the critical mass that has made it the likely centerpiece of tonight's Primetime Emmys perfomance without ever before being televised in any way.
Said Joss Whedon in his Emmy acceptance speech: "This is our small proof not only that things can be done differently in this business, but that the greatest expression of rebellion is joy."
Makes you wonder how hard the audience of TV execs, stars, producers, writers and the like will really be clapping.

Dr. Horrible's Sing-Along Blog:
Joss Whedon Emmy Acceptance Speech for Dr. Horrible:
Ash Kalb is the general counsel of a New York-based telecommunications and technology company and an instrument-rated pilot. He writes about geeky things for Mediaite.
Have a tip we should know? tips@mediaite.com