Wait, What? Bill Maher And Keith Olbermann Defend Sarah Palin Against Rumors In New Book
Bill Maher And Keith Olbermann Defend Sarah Palin Against Rumors In New Book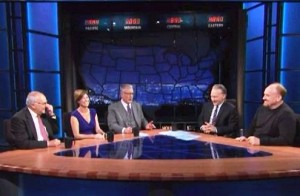 Between talk of testosterone and Jackie Kennedy, Bill Maher brought up the new Sarah Palin biography containing all sorts of odd, politically irrelevant rumors about the former governor's life. After some initial hesitation, Keith Olbermann surprised himself by defending Palin against the rumors.
Palin was brought into the conversation courtesy of a Louis C.K. masturbation joke, from which Maher took the opportunity to ask the comic about his drunken tweets about Palin. C.K. used a few choice words in talking about the governor, joking on the show that she had an entire family of Chinese people living in her c***, but the more surprising part of the conversation came when it shifted to the new book The Rogue by Joe McGinniss.
Maher brought up the book and said that many reviewers, even at The New York Times, thought Palin got a "raw deal" because of all the unsubstantiated rumors in the book about her alleged one-night stand with an NBA player and snorting cocaine off an oil drum. Olbermann hesitated before daring to speak aloud:
I'm… I'm actually… on Sarah Palin's… side on this.
He was quick to calm himself down by saying, "That woman is an idiot," before asking of the biography, "Why is it relevant and what's the point of it and how well-sourced is it?" He allowed that her public statements are fair game, but didn't like the amount of factless speculation in the book.
Here's the ultimate takeaway: if you write an anti-Sarah Palin book and Keith Olbermann is saying you crossed a line, you CLEARLY did something wrong.
Watch the video below, courtesy of HBO:
Have a tip we should know? tips@mediaite.com
Josh Feldman - Senior Editor