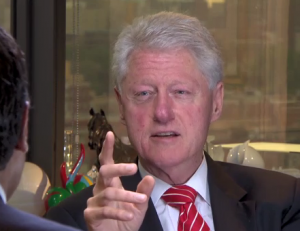 Noted burger and donut lover Bill Clinton has–brace yourself–become a vegan. Is nothing sacred? In an interview with CNN's Sanjay Gupta, the former president and junk-food lover has cleaned up his act, dropping twenty pounds and transforming his diet. Gupta reports Clinton "now considers himself a vegan…and he says he's healthier than ever." The candidate who worked his way through New Hampshire–and boxes of donuts–had a huge health scare that resulted in heart surgery and advice to step away from the barbeque and french fries.
"I was lucky I did not die of a heart attack," Clinton told Gupta about his quadruple bypass. "I essentially concluded that I had played Russian roulette," Clinton said, "because even though I had changed my diet some and cut down on the caloric total of my ingestion and cut back on much of the cholesterol in the food I was eating, I still — without any scientific basis to support what I did — was taking in a lot of extra cholesterol without knowing if my body would produce enough of the enzyme to support it, and clearly it didn't or I wouldn't have had that blockage. So that's when I made a decision to really change."
The former president, whose interview features in a CNN special The Last Heart Attack Sunday night at 8 p.m., now says he consumes no meat, no dairy, no eggs, almost no oil.
Watch it here, from CNN:
As we fondly remember the power-eating Big Bill of old, enjoy this classic 1990s clip from Saturday Night Live with Phil Hartman:
Have a tip we should know? tips@mediaite.com