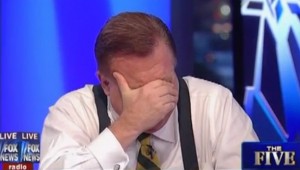 On Friday afternoon's The Five, Fox News Democrat Bob Beckel brought down the house by inventing an anatomically unfortunate nickname for individual postings on social media platform Twitter. In discussing the firing of his friend Pat Buchanan, Beckel referenced the Twitter-related suspension of CNN's Roland Martin, saying "The black dude got suspended at CNN for saying something on a tweeter, Twitter, twats, twits…sorry."
The Five's panel discussion was focused on whether there was a "double standard" at play with the firing of Pat Buchan by MSNBC. Earlier in the segment, former Bush Press Secretary Dana Perino brought up Ed Schultz's infamous remark (on his radio show) about conservative pundit Laura Ingraham. "Do you remember when Ed schultz called Laura Ingraham, I'll say it, called her a 'right wing slut' — I heard that and I almost fell over."
"What goes through your mind when you say something like that?" Perino continued. "Remember MSNBC is like 'Jeez, what do we do? And then he apologized, which was the right thing to do, but he didn't do it right away."
This might come as a shock, but Perino doesn't really have her facts straight here. Schultz made the remark on his May 24 radio broadcast, MSNBC announced his suspension (for one week) on May 25, and Ed Schultz delivered a pained, heartfelt apology that same night, and turned over the broadcast to fill-in Thomas Roberts. He didn't return to the air until June 6.
Inaccuracies notwithstanding, Schultz's situation, a single incendiary remark that was met with swift suspension, isn't really analogous with Buchanan's, which dealt with a broader philosophical divide that even Fox News' Chris Wallace acknowledges was widened over a long period of time.
Eric Bolling asked "Is there a different standard at MSNBC, where they hold buchanan to a different standard than a liberal or left winger?"
Beckel responded, "Absolutely."
After a digression by Dana Perino about some Tucker Carlson contract issue, Beckel offered his Roland Martin example. "The black dude got suspended at CNN for saying something on a tweeter, Twitter, twats, twits…sorry."
Host Kimberly Guilfoyle tossed to commercial with a call of "Edit!" and invited viewers to come back "if you're not horrified."
Beckel constantly plays up his addled malaprop artist persona, so I don't believe for a second that "twats" was a slip, but while prudes in Fox's audience might be horrified by that, and the juvenile among us might make jokes, his reference to Roland Martin as "the black dude at CNN" actually was kinda horrifying.
Here's the clip, from Fox News:
Have a tip we should know? tips@mediaite.com