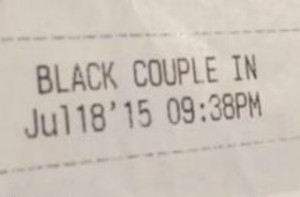 A St. Louis-area waitress was fired recently after she referred to a black couple as "black couple" on a receipt.
According to local Fox affiliate KTVI, Kimberli Wilson and a friend were at Patrick's Westport Grill when she saw the words. "Totally, totally humiliated," she said. "I was frustrated, I was angry, I was thinking, 'Really, are we still doing this in 2015?'"
The waitress explained that she only used the term because she was unable to remember her table numbers. But Wilson said she should have used a different term. "She could have said first table, table at front door, man with coral shirt. There are so many other options that she could have chosen other than that. That's unacceptable."
Owner Patrick Hannon apologized and fired the waitress in question. "I'm also going to bring in a consultant to give some diversity training so we all understand what it's all about," he told KTVI. Hannon also posted a full apology on Facebook:
I, Patrick Hanon, sincerely apologize for the unacceptable act that is not symbolic of our company values or beliefs. We do not tolerate this behavior and have a zero tolerance for this behavior. This is not our management style and have addressed this issue. We are reevaluating our hiring, training, and screening process so that we develop the most professional of individuals. This was an isolated event which we do not and will not tolerate. Patrick's is a family owned business and during our 33 years I have always treated my customers as family and encourage my employees to do so as well. We appreciate our loyal family members and our new family members.
Watch, via KTVI:
[Image via screengrab]
——
>>Follow Alex Griswold (@HashtagGriswold) on Twitter
Have a tip we should know? tips@mediaite.com