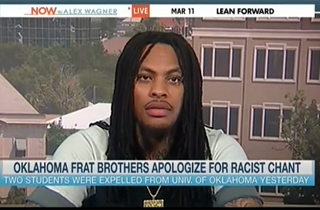 Waka Flocka Flame, the rapper who canceled a concert at the University of Oklahoma after a video with frat boys chanting racist lyrics leaked, went onto Now with Alex Wagner to challenge the notion, floated by Morning Joe earlier today, that his lyrics somehow inspired the racist chant.
The lyrics of Waka Flocka's songs were the subject of a Morning Joe discussion that soon went viral, after many of the panelists suggested that rap lyrics (his own included) were full of indecent language and that people shouldn't be surprised "that some drunk 19-year-old kids repeat what they've been hearing," in the words of Bill Kristol. (To recap: those 19-year-old frat boys were videotaped singing a song referencing lynching, which led to their expulsions and the removal of SAE's chapter from the University of Oklahoma's campus.)
"Some folks have said your lyrics are racist or disgusting or divisive or hateful," Wagner asked him, without calling out the Morning Joe folks by name. "What do you say to those folks about why you choose the words you do?"
"This isn't about rap. This is about what happened on that bus," Flame, who's performed at multiple SAE events in the past, responded. "This isn't about my rap music. I feel like they're running away from what we're talking about."
Waka Flocka also mentioned that the story of Beauton Gilbow, the frat's 79-year-old house mother caught singing "nigger" repeatedly on an old Vine, was also a distraction to what really happened. "She was clearly reciting a rap song," he told Wagner. "What she wrong at was joining kids at being children when in her times and era that word was not supposed to be verbally expressed by that culture of people, in my opinion."
"Honestly, we have to talk about what happened on that bus. I'm not here to judge that woman and what music she want to jam to cleaning up her house or enjoying her free time," he added.
Watch below via MSNBC:

[Image via MSNBC/screenshot]
— —
>> Follow Tina Nguyen (@Tina_Nguyen) on Twitter
Have a tip we should know? tips@mediaite.com