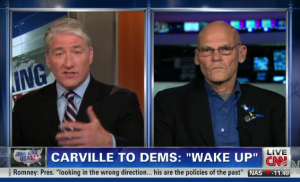 Hey Democrats, what are you smoking? That's what James Carville wants to know. In a CNN opinion piece, Carville sends a strong message to his fellows Democrats, warning them not to take a November victory for granted. His message: WTFU (or, wake the fuck up).
In the piece, he writes:
Democratic fundraisers, activists, supporters, and even politicians alike have somehow collectively lapsed into the sentiment that the president is going to be reelected and that we have a good shot to take the House back while holding the Senate.

I ask: What are you smoking? What are you drinking? What are you snorting or just what in the hell are you thinking?
Look around, he said, and ask yourself, do you see incumbents winning? And the polling? "Not that encouraging." Carville writes that he keeps hearing that "Obama has it in the bag." Well, guess what? Newsflash:
Nothing is in the bag. Nothing can be taken for granted. Everybody from the precinct door-knocker, to the Chicago high command, to the White House, to the halls of Congress, to the Senate and House committees, to congressional leadership, here is a simple message: If we don't get on the offense, reconnect with the American people, talk about how the middle class is in a struggle for its very existence, hold the Republicans accountable and fight like the dickens, we are going to lose.

You can shoot five Bin Ladens, you can save 10,000 banks and 20 car companies, even pass the most sweeping legislation in modern American history; if people don't think that you are connected to their lives and are fighting for their interests they will vote your tush out of office in a nano-second. For historical reference see Winston Churchill election of 1945 and President George H.W. Bush in 1992.
The "Look at Mitt Romney, look how pathetic he is…" argument is predictable, Carville said. Citing Romney's foreign policy remarks and offshore bank accounts, Carville noted that "pathetic is a kind word for Romney and this campaign."
Discussing the piece on CNN, Carville acknowledged that he thinks Democrats do have a good chance in November — but "it's gonna be a brutally tough election." Democrats need a more "insurgent" mentality versus an incumbent one, he said, and "that's not how elections are won."
Toward the end of the piece he said, "I fear that all of this will not be enough unless we have real change of attitude about the difficult campaign ahead of us."
Take a look, via CNN:

Have a tip we should know? tips@mediaite.com