Wall Street Insider: CNBC Hyped Pre-IPO Facebook 'Worse Than Anybody' And Deserves Blame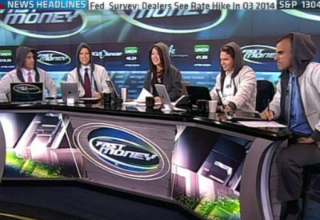 Investment banking firm Morgan Stanley has taken a lot of flak lately from business news networks for its boosting of the Facebook IPO that ultimately failed expectations and many investors. In turn, a Wall Street insider told the New York Daily News this week that now Morgan Stanley's corporate communications team blames CNBC for hyping the IPO "worse than anybody."
The source said that CNBC Senior Vice President and Editor-in-Chief Nik Deogun "is under fire" because "Morgan Stanley is telling him, 'How dare you criticize us when you guys promoted this IPO worse than anybody.'"
The Daily News's source cited CNBC's frequent on-air championing of the IPO, including their treatment one of Facebook CEO Mark Zuckerberg's public appearances like "the President's State of the Union Address," with multiple cameras and reporters covering the event.
The Daily News also cited CNBC's coverage of May 17, the day before the IPO, when the hosts of Fast Money wore hoodies as a goofy homage to Zuckerberg's style. On the same day Mad Money's Jim Cramer urged his viewers that "If you can get in on the actual IPO, then I think Facebook is a no-brainer."
"We all know this one's going to pop like crazy on its first day of trading," he said, "so if you can get in on the deal, I think you should try to get your hands on as many shares as possible."
"Who's more responsible for luring the little guy to the IPO?" the Wall Street insider asked the Daily News.
CNBC spokesman Brian Steel told the Daily News: "CNBC's Facebook coverage has been widely acknowledged as fair, balanced and insightful."
Have a tip we should know? tips@mediaite.com