Wall Street Journal Columnist To Fox & Friends: With Just 2% Growth, Obama's Legacy 'Will Be Ashes'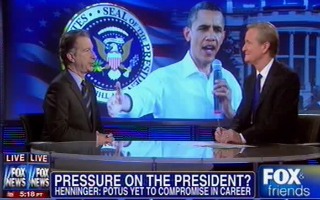 Wall Street Journal columnist Daniel Henninger appeared on Fox & Friends on Friday where he warned that presidents who do not preside over growing economies in their second terms tend not to be recalled favorably by posterity. Henninger said he thought that President Barack Obama's legacy 'would be ashes' if his second term is characterized by consistently low economic growth.

Henninger expressed dismay over the state of the negotiations on the fiscal cliff, and said it was disturbing that he thought negotiations were "nowhere."
He went on to list the ways in which Obama has been consistently unable to get Republicans to support his legislative initiatives. "Barack Obama is someone – a president, surprisingly enough – who just does not know how to negotiate a political deal with the other side," Henninger said.
"I think it's a combination of arrogance – he may be the most arrogant person who ever sat in the Oval Office. A combination of that and inexperience," Henninger said, explaining why the president is unable to navigate a negotiation with Republicans successfully.
In closing, Henninger warned that Obama will not be remembered favorably unless economic activity begins to accelerate.
"Both Ronald Reagan and Bill Clinton had strong legacies because they had strong growth in the second terms of their presidency," Henninger said. "If Barack Obama has growth not much more than 2 percent, his legacy will be ashes. Its surprising to me that he's incapable of recognizing that and putting something in place that will bring the economy back to life."
Watch the segment below via Fox News Channel:
> >Follow Noah Rothman (@Noah_C_Rothman) on Twitter
Have a tip we should know? tips@mediaite.com