Wallace Grills Obama Spox: 'How Could Obama Have Been So Wrong' about Defeating al Qaeda?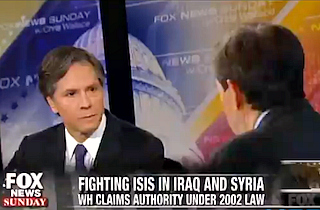 Fox News Sunday's Chris Wallace asked Deputy National Security Advisor Tony Blinken about the Obama administration's change in tone and rhetoric from several months ago, when admin spokespeople were declaring al Qaeda decimated* and seeking to overturn the 2002 AUMF, to now, when they are whipping up support for what Peggy Noonan calls the Boom Boom Boom.
"How can you go to war based on authorization that you say is no longer a basis for any U.S. government activities — and you wanted it repealed?" Wallace asked. "Don't you think it's kind of embarrassing that two months ago you wanted to repeal it?"
"We still would like to repeal it," Blinken said, distinguishing between the post-9/11 AUMF that authorized the U.S. government to go after al Qaeda affiliates and the 2002 AUMF for action in Iraq. "What would be very helpful is if Congress worked to give us a targeted, focused authorization, but while we welcome that, we don't need it."
Wallace also questioned Blinken on Obama's U.N. General Assembly speech last year in which he said the U.S. was ending a decade of war. "How could the president have been so wrong?" Wallace asked.
"The president was exactly right," Blinken said. "What we're doing is totally different than the last decade. We're not sending hundreds of thousands of American troops back into Iraq or Afghanistan. …What we're not going to do is fall into the al Qaeda trap of sending hundreds of thousands of American troops back into Iraq. That's exactly what they want."
* Not what that word means.
Watch the clip below, via Fox News:
[Image via screengrab]
——
>> Follow Evan McMurry (@evanmcmurry) on Twitter
Have a tip we should know? tips@mediaite.com