Wallace Presses NIH's Fauci to Explain Ebola 'Overstatements and Misstatements'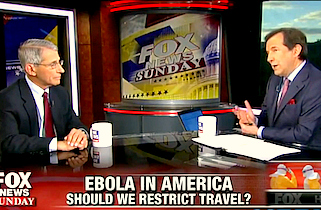 Fox News Sunday host Chris Wallace asked National Institute of Allergy and Infectious Diseases head Dr. Anthony Fauci to explain "overstatements and misstatements" by health officials about stopping the spread of the virus, given that two health care workers are now infected.
"Clearly there was a sense of certainty that was being conveyed that was not lived up to," Wallace said.
"There aren't absolutes," Fauci continued. "You want to have a delicate balance between assuring the American people but not scaring them with the fact that there may be a risk. Nothing is completely risk free, but the relative risk of things, people need to understand, is very very small. Never zero. But very small."
Wallace also asked whether Fauci still opposed a travel ban from west Africa. He did.
"We listen to and respect the opinions of people who feel that should be the case," Fauci said. "It's an argument of people who have good intentions…[But] when people are coming into the country, you can track them."
Fauci said that the risks of imposing a travel ban far outweighed the chance that it would actually stop the virus.
"If you look at August and September, 36,000 people came to an airport of one of those countries to get out. By the screening, 77 were not allowed to get on the plane for health reasons. Of those 77, none had ebola. So there is not a big influx of people trying to get into the country. So you have to look at the downsides of not letting anybody out, when zero of the 77 that were stopped had ebola."
Watch the clip below, via Fox News:
[Image via screengrab]
——
>> Follow Evan McMurry (@evanmcmurry) on Twitter
Have a tip we should know? tips@mediaite.com