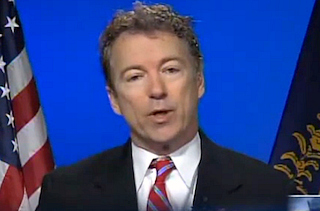 During a wide-ranging interview on CPAC and Fourth Amendment issues Sunday morning, Fox News Sunday host Chris Wallace pressed Senator Rand Paul (R-KY) on his foreign policy, especially with regards to crisis in Ukraine, and its place in the contemporary GOP. Paul argued his non-interventionist stance sprung from the mainstream of the Republican Party, and wasn't as far from his GOP rivals as some would want it to appear.

Wallace quoted a line from Paul that the U.S. should have a "respectful" relationship with Russian President Vladimir Putin, and asked Paul if his foreign policy was "too soft" for the conservative base of the Republican Party. Paul insisted that his foreign policy "came out of the mainstream" of the GOP, and tied it back to Henry Kissinger and the first George Bush.
"I opposed with real fervor the involvement of us in Syria, and that became the dominant position in the country," Paul said. "There's not one Republican who's saying we should put military troops into Crimea, or into Ukraine. So I think I'm right in the middle. I think those who would try to argue that somehow I'm different than the mainstream Republican opinion are trying to take advantage for their own political gain…What Ronald Reagan said in about one sentence sums up a lot of what I believe. He said: 'Don't mistake our reluctance for war for a lack of resolve.'"
Paul also said he would promote U.S. gas exports and drilling to supply Europe with gas to compensate for a possible disruption from Ukraine.
Watch the clip below, via Fox News:
[Image via screengrab]
——
>> Follow Evan McMurry (@evanmcmurry) on Twitter
Have a tip we should know? tips@mediaite.com