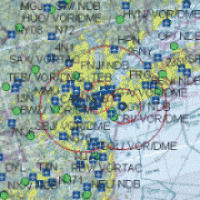 Well, someone important is coming to New York tomorrow! According to an FAA NOTAM (Notice To Airmen) yesterday, there will be "Temporary flight restrictions for VIP (Very Important Person) Movement." What does this mean?
It means there will be some very sweeping flight restrictions over NYC airspace tomorrow from 8:55 a.m. to 2 p.m. It means that pretty much all recreational activities are suspended, all flights have to be in specific corridors, with flight plans pre-filed, and under positive control (of flight controllers). Everything in the air in the TFR (Temporary Flight Restrictions) area needs to be pre-identified and in a pre-designated place.
So: Who could be coming to town that is so important that it triggers such a restrictive NOTAM? Two words: Obama!
In all the hoopla over Brainwashing Our Children™ and tomorrow's address to a joint session of Congress, we forgot that Obama will be in town to celebrate Walter Cronkite at tomorrow's special memorial service at Lincoln Center. In addition to President Obama, speakers include former President Bill Clinton (who lives here so presumably wouldn't be flying in); current CBS Evening News anchor Katie Couric and famed astronaut Buzz Aldrin, whose moon landing Cronkite so famously announced.
So, Amanda Carpenter — add one more to your list. The full details are here (regularly-scheduled flights, you're in luck; hang-gliders and crop-dusters, you are not).
Here's a larger/clearer image of the affected area, so if you were planning to hang-glide in at the last minute, you should probably reconsider.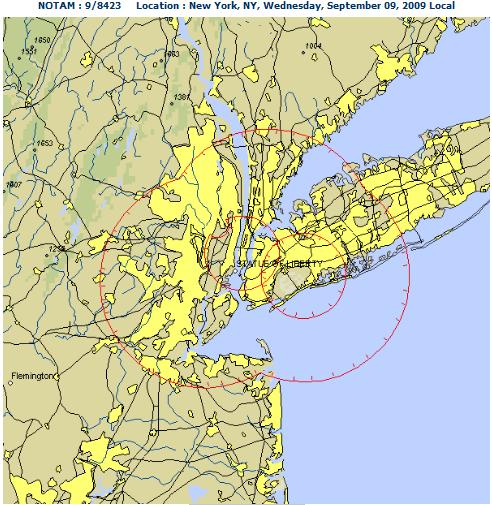 9/8423 NOTAM Details [FAA]
Political and Media VIPs to Honor Cronkite [CBS News]
Have a tip we should know? tips@mediaite.com