WaPo Columnist Bashes WH On 'Plan B': 'Girls' Should Have 'Instantaneous' Access To Morning After Pill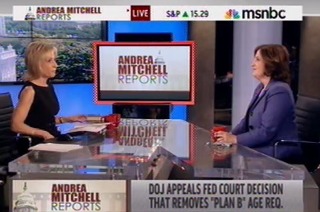 Shortly after the Food and Drug Administration announced their decision to permit women as young as 15-years-old to purchase the Plan B morning after birth control pill without parental permission Wednesday, the White House announced it would appeal the decision. On Thursday, Washington Post columnist Ruth Marcus told MSNBC host Andrea Mitchell that she was "surprised" by the White House's decision. She added that "women and girls" should have "easy and instantaneous access" to the pill without parental consent, and that the pill's $50 cost would deter children from using it excessively.

"It seems as though the White House was taking its good time with this, putting the FDA on the spot," Mitchell observed.
Marcus said she spent a lot of time researching the morning after pill in past years and, as a mother of two daughters, had been leery of the prospect of young teenagers having access to post-coital contraceptives without parental consent. However, she says that she recently changed her mind and abandoned her concerns.
"I was convinced, after reporting, that that I was wrong," Marcus said. "That the most important thing to do is to make sure that access to the morning after pill when you need it – in the unfortunate event that you do need it – is as easy and instantaneous as possible."
Marcus added that the pill should be available and "not dangerous for young women or girls, unfortunately." She said that the cost of the pill, around $50 dollars, would be enough of a deterrent for children to avoid using it as a contraceptive of first resort.
"The more unplanned pregnancies we can prevent, the better," Marcus said. She added that she was "really surprised" that the White House would challenge the FDA's decision.
Watch the clip below via MSNBC:
> >Follow Noah Rothman (@NoahCRothman) on Twitter
Have a tip we should know? tips@mediaite.com