WaPo Columnist: Criticism Of Obama's Potentially Bloody, $100 Million African Safari 'Misses The Point'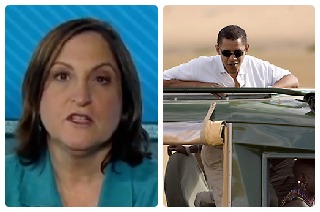 Washington Post columnist Ruth Marcus scolded critics of an upcoming African safari that President Barack Obama and his family were scheduled to take. Reports suggest that the first family have decided to scrap that trip because of both the costs, which could reach $100 million, and the fact that sniper teams would have had to put down a variety of threatening large mammals. Marcus said that critics of the trip's costs were "missing the point." She noted that America's uncultured and provincial bumpkins should appreciate when their presidents travel abroad.

"It's a lot of money, but I really think for people to criticize the president or criticize the White House for spending, quote unquote, too much money on a presidential trip really misses the point," Marcus said, employing air quotes to accentuate the notion that anyone who considers the trip's nine-figure price tag to be too high was a buffoon.
"Number one, we want our presidents to travel," she continued. "We particularly want them to travel to foreign countries to forge relationships with foreign leaders, to enhance the reputation of America abroad. This is one of the ways we do it."
We "forge relationships" with foreign peoples and their governments by sending our elected representatives to their countries to slaughter their wild fauna? That's a novel approach.
"Presidential travel costs a lot of money. That just goes with the territory," Marcus continued.
Of course, most can see the a distinction between a $100 million diplomatic summit or a state visit and a $100 million lavish, blood-soaked, Rooseveltian fantasy. Most, that is, with the exception of Ruth Marcus.
Watch the clip below via MSNBC:
> >Follow Noah Rothman (@NoahCRothman) on Twitter
Have a tip we should know? tips@mediaite.com