WaPo's Jennifer Rubin Battles O'Reilly in Amazing Segment: You 'Parrot' What Trump Tells You!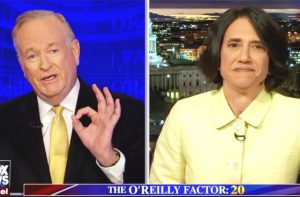 Conservative Washington Post columnist Jennifer Rubin has been pretty tough in her columns about the conservatives in the media who have gone soft on Donald Trump. That culminated in an amazing segment with Bill O'Reilly tonight.
See, O'Reilly was upset about literally this one line in something she wrote weeks ago: "Trump should do interviews with real news people, not Sean Hannity and Bill O'Reilly, in preparation for the debates. He's otherwise in for a rude awakening when someone asks a real question."
O'Reilly objected to this tonight, but Rubin responded, "My criticism is really that you actually are in the spin zone. It's presented as a news program or pseudo-news program… parroting a lot of what Trump is saying to you."
O'Reilly flipped out, but Rubin was ready. She had an entire list ready to go of things O'Reilly has done over the course of the campaign to help bolster Trump's case while everyone else was stunned at how he could defend it.
Rubin said that O'Reilly even made excuses for "lock her up." O'Reilly declared he did no such thing. Rubin looked through her list to find the examples, and when she said she didn't have the precise wording on her, O'Reilly took it as an out and again denied the charge.
For the record, we tracked down this O'Reilly quote defending not "lock her up," but Trump's comment at the debate that Clinton would be in prison:
"Number one, he has to play to a certain voter. All right? Who does believe that Mrs. Clinton got away with a national security violation that no one else would have gotten away with. Millions and millions of those voters out there. So, yes. You're right. He can't put anybody in jail if he's president. You can't just sign an executive order was it incarcerated, but certainly he would have the power to his Justice Department would to reopen an investigation that the government deemed to be not credible. He does have the power to do that and I wasn't offended by that so much in the sense that I knew it was a quip off the top of his head which, you know, and I think it helped him. I really believe that helped him."
O'Reilly proceeded to show her a montage of times he's been tough on her (which Rubin snarkily dismissed as "the three things that you've said mean about him."
Rubin said she would put up specific examples on her website. O'Reilly told her no one would look and called her a dishonest person.
You absolutely must watch the whole thing above, via Fox News.
[image via screengrab]
— —
Follow Josh Feldman on Twitter: @feldmaniac
Have a tip we should know? tips@mediaite.com
Josh Feldman - Senior Editor