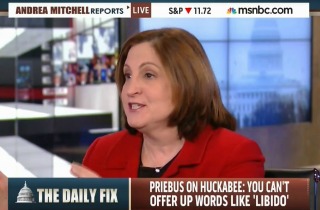 On Monday, Ruth Marcus, left-leaning political columnist for the Washington Post, stepped on a rhetorical landmine. Or, that is, she would have if she was Ruth Marcus, right-leaning columnist for the Washington Post. Maybe former White House intern Monica Lewinsky was just asking for it? That is the impression that this headline and the selected pull quote will project.
When Marcus was making a fairly anodyne statement about how female sexuality is routinely mischaracterized in the press when it involves a politician (intentionally so, I would submit), Marcus lamented how sexually active women are branded as either insatiably promiscuous predators or helpless victims. Marcus insisted that there is a grey area here that the majority of women occupy.
Hers is the kind of milquetoast observation that would draw applause at an academic conference, or a corporate seminar on sensitivity, or anyplace where the obvious and antiseptic statements are regarded as brave and refreshingly honest.
But the political media has set the cultural standard of political discourse to maximum outrage and there is no going back. With that in mind, it is clear Marcus is next in line for the buzz saw of feigned indignation.
In a conversation with MSNBC's Andrea Mitchell about the wrongness of comments from former Arkansas Gov. Mike Huckabee and Sen. Rand Paul (R-KY), both of whom were attacking the double standards that typify the Democratic attack on Republicans supposedly waging their "war on women," Marcus made some artless comments of her own.
"There seem to me a tendency to talk about women in two ways when it comes to sex and sexual activity," Marcus asserted. "Either they are terrible victims preyed on by older men, as in Monica Lewinsky."
"President [Bill] Clinton did a bad, bad thing, and Monica Lewinsky was not precisely an innocent victim," she continued. "I recall thong flashing there."
"They are either innocent victims or they are sexually promiscuous, slutty low-life women," Marcus said, inventing the position of her imagined antagonist with particular fervor. "There's no women get to use sex and sexual activity and use contraception responsibly like men do."
Again, there is nothing offensive about these comments, but it seems it only takes an enterprising columnist to invent the latent discriminatory instinct supposedly lurking in the subconscious of an offender in order to elevate an average undiplomatic remark into a grave incident requiring denunciation by every political figure of merit.
At least, that is how it works on one end of the political spectrum. Clearly, as evidenced by Marcus' unsophisticated phrasing, the other end is more accustomed to receiving the benefit of the doubt.
Watch the clip below via MSNBC:
[Photo via screen grab ]
— —
> >Follow Noah Rothman (@NoahCRothman) on Twitter
Have a tip we should know? tips@mediaite.com