'War Against Radical Islam': Fox & Friends Takes On The 'Infection…Happening Across Our Country'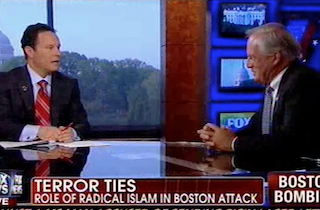 "Is the United States losing the war against radical Islam?" Fox & Friends co-host Brian Kilmeade asked on Wednesday. Invited to discuss the topic, Porter Goss, a former CIA director, spoke about the "infection" across the country — and how we need to learn to deal with it in a better way.
Given that we've been told the Boston Marathon bomber was self-radicalized, and had no ties to foreign groups (which the Fox & Friends crew has been skeptical of), Kilmeade asked Goss about the "brand-new chapter" we're in, pressing him on whether "there is a link and training coming out of Chechnya to the Boston bomber."
"I certainly think there's inspiration coming out of it because that's what's happened," Goss replied. "That infection is happening across our country, and it's very dangerous and something we have to learn to deal with better."
As for the Boston case, Goss said we still need more follow-up to be able to discern the exact facts. "These radical Islamists are making war on us," he added. "They're doing it in a informal way, asymmetric warfare. This is unconventional warfare."
"Why is the FBI overseas doing intelligence work?" he further asked, noting that they are law enforcement officials. "But it seems to me the lash out between what happened before this — why didn't we stop it instead of having such a great sweep-up team? "
Asked whether it bothers him that the Boston suspect was Mirandized "within hours," Goss said he's troubled that we're treating this war as a law enforcement problem rather than a combat problem. "We aren't designed to deal with it yet," he added.
"Is the Boston bomber going to happen every ten years, or do you feel as thought it's going to catch momentum?" Kilmeade followed up. Goss pointed to the many attempts, arguing that "we are worried about the m.o. of taking advantage of large crowds that are very vulnerable."
Take a look, via Fox News:

Have a tip we should know? tips@mediaite.com