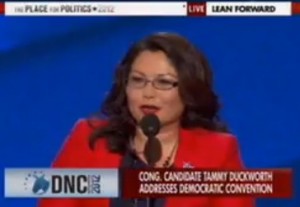 Heroic Iraq War veteran and congressional candidate Tammy Duckworth (D-IL) helped kick off the Democratic National Convention Tuesday night with a speech that drew several standing ovations, and which landed a gut-punch of shame to Republican presidential candidate Mitt Romney. After detailing her impressive biography, Col. Duckworth slammed Romney for his failure to mention the 84,000 Americans still serving in combat in Afghanistan during his acceptance speech last week.
Duckworth began with a bit of an ode to the social compact, and the social safety net, saying "My father served in the Army and the Marine Corps. Ooh-Rah! A Vietnam vet, his family has worn our nation's uniform since the revolution. My husband is an army officer and my brother saved lives in the Coast Guard. My mom is Thai and Chinese, and she proudly became a citizen in her 50s."
"Dad's work took us all over the world until he lost his job," she continued. "It was a tough time. We used up our savings, moved into a studio apartment. But our family did the responsible thing, and we rolled up our sleeves. Mom took in sewing. My 55-year-old dad kept looking for work, but at 15 years old, I was the only one with a job, after school, for minimum wage. Thank God for the food stamps, public education and grants that helped me finish high school, and college. In time, we pulled through."
She delivered a powerful endorsement of the President, detailing some of his national security successes, and summing it up with a searing indictment of Governor Romney. "Last week," she said, "Mitt Romney had a chance to show his support for the brave men and women he's seeking to command. But he chose to criticize President Obama instead of even uttering the word, Afghanistan. Barack Obama will never ignore our troops. He will fight for them. That's why he is my choice on November 6th."
As powerful as that was, it wasn't close to the most moving of her speech. At the risk of offending Rep. Joe Walsh, Lieutenant Colonel Duckworth spoke about her service in Iraq, as a metaphor for what the country must do now.
"On november 12th, 2004," she began, "I was co-piloting north of Baghdad when we started taking enemy fire. A rocket-propelled grenade hit our helicopter, exploding in my lap, ripping off one leg, crushing the other and tearing my right arm apart, but I kept trying to fly until I passed out. At that moment, my survival and the survival of my entire crew depended on all of us pulling together, and even though they were wounded themselves, and insurgents were nearby, they simply refused to leave a fallen comrade behind. Their heroism is why I'm alive today and ultimately — ultimately, that is what this election is about."
"Yes, it's about the issues that matter to me," she continued, "building an economy that will create jobs here at home, that will outcompete countries around the world. But it's also about something else. It's about whether we do for our fellow americans what my crew did for me. whether we'll look out for the hardest hit and disabled, whether we'll pull together in a time of need. whether we'll refuse to give up until the job done. so let's finish what we started. let's keep moving forward with Barack Obama. Let's do what this country has always done: look adversity in the eye and work together to overcome it."
Here's the speech, from Fox:
Follow Tommy Christopher (@TommyXtopher) on Twitter.
Have a tip we should know? tips@mediaite.com