War Vet Rep. Gabbard Releases Emotional and Evocative 'Cost of War' Ad For Bernie Sanders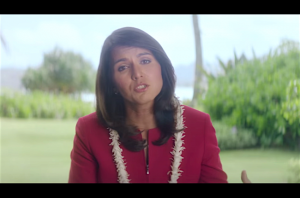 Military prowess and foreign affairs may not be the top things you think about that best define the Bernie Sanders candidacy. Largely charged with being a single-issue candidate, the self-described Democratic Socialist from Vermont has put economic recovery and financial accountability at the forefront of his campaign. By all accounts, it is the former Secretary of State Hillary Clinton whose experience seems to indicate a larger and more substantive understanding of global politics.
However, one of the primary reasons that Hawaii state Congresswoman Tulsi Gabbard resigned from her position in the DNC last month was because of an upstream conviction that it was Sanders — not Clinton — best suited to make decisions abroad. After Gabbard, a war veteran who served in Iraq, vacated her role as the DNC Vice Chair, she largely credited the 74-year-Senator with the decision-making skills to understand the true cost of going to war.
On Thursday, Gabbard furthered her advocacy for the Sanders campaign by appearing in a video titled The Cost of War that emotionally pulls from Gabbard's experience as a member of the military:
"I could not in good conscience stay back here in beautiful Hawaii and watch my brothers and sisters in uniform go off into combat," Gabbard says in the video, continuing with clear remembrance in her tone, "These are friends and people who we never forget."
In the video, released just two days before the state-wide Democratic caucus in Hawaii, Gabbard continues, "Bernie Sanders voted against the Iraq war. He understand the cost… He will defend our country and take the trillions of dollars that are spent on these interventionist, regime-change, unnecessary wars and invest it here at home."
"What I saw in Bernie was the heart of 'aloha'," she concluded. Watch the above video from the Bernie2016 YouTube channel.
Have a tip we should know? tips@mediaite.com