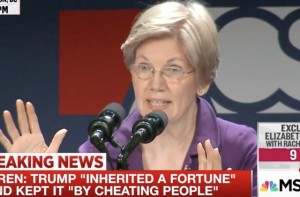 Senator Elizabeth Warren delivered another speech tonight where she went after Donald Trump, and if you thought her past attacks on Trump were something, you ain't seen nothing yet.
Warren spoke at the American Constitution Society of Law and Policy National Convention, and she didn't waste that much time before going after Trump for "cheating people," engaging in fraud at Trump University, and believing the rule of law does not apply to him.
"Trump is criticizing Judge Curiel," Warren said, "for following the law instead of bending it to suit the financial interests of one wealthy and oh-so-fragile defendant."
Her speech started feeling more like a comedy roast when she went after Trump for his racially-charged attacks on the judge, calling him a "thin-skinned racist bully." A few of her lines got laughs from the audience and quizzical looks from Warren herself, reacting to some of Trump's more bizarre pronouncement.
And then she asked, "What kind of man is Donald Trump?" and really went in hard:
"You should be ashamed of yourself. Ashamed for using the megaphone of a presidential campaign to attack a judge's character and integrity simply because you think you have some God-given right to steal people's money and get away with it! You shame yourself and you shame this great country!"
Warren called Trump a "total disgrace" who's in it for himself, but she didn't let Republican leaders off the hook.
Rather than taking Trump as an anomaly in the Republican party, Warren said The Donald is clearly aligned with the rest of the party on policy––and that the GOP's only objection is that he's "so obvious and vulgar about it."
You can watch Warren's full remarks about Trump above, via MSNBC.
[image via screengrab]
— —
Follow Josh Feldman on Twitter: @feldmaniac
Have a tip we should know? tips@mediaite.com
Josh Feldman - Senior Editor